Knotel Signs First Lease in Los Angeles County
Flexible office space co. plans for dozens of L.A. locations, founder says
Friday, February 22, 2019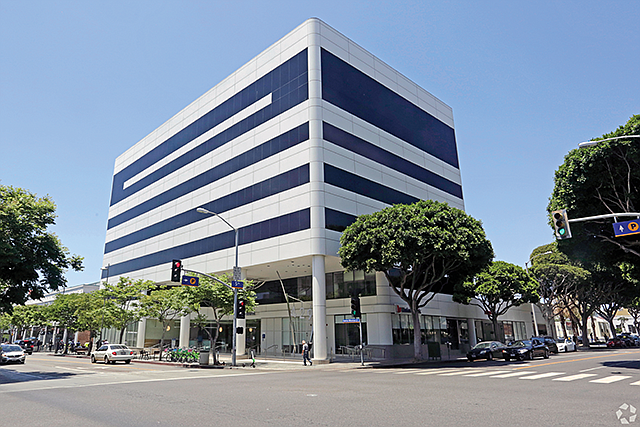 Knotel Inc., a New York-based flexible office space provider and rival of WeWork Cos. Inc., is making its way to Los Angeles. The company has signed its first L.A. area lease in Santa Monica.
Knotel signed a lease for 12,338 square feet at 429 Santa Monica Blvd.; the terms were not disclosed.
Knotel already has U.S. locations in New York and San Francisco.
Cresa's Ray Howden represented Knotel. Savills Studley Inc.'s Robert Cavaiola and Shay Bolton represented InVenture Capital Corp., the sublandlord. Douglas Emmett Inc. owns the building.
Knotel, which was founded in 2016, is valued at $500 million, research firm Pitchbook Data Inc. estimated in 2018.
Knotel provides flexible pricing, terms and spaces for clients, but don't confuse it with co-working.
"We don't do co-working at all," Knotel co-founder and Chief Executive Amol Sarva said. "If you're two people and need a spot, we would refer you to a co-working company. What we do is for large companies like Netflix or Microsoft. They are full of teams that are a couple hundred people each and need office space."
Sarva also founded mobile-phone provider Virgin Mobile USA Inc. and tech company Peek Inc.
Knotel offers clients a traditional office environment but doesn't force people into long-term leases. Knotel also offers tenants the flexibility to grow their space quickly since it signs leases with landlords and then leases to tenants, giving tenants the ability to scale up or down quickly if need be.
"We make office flexible," Sarva said. "Businesses need office, and for some reason, there was never a way to do it flexibly. Co-working is not office."
Currently, the company has more than 2.5 million square feet of office space across more than 110 locations.
Sarva anticipates the Knotel model being popular in a city like Los Angeles where having a handful of mid-sized offices in different areas instead of one large compound can help manage commutes. Teams that serve different functions also have the option of occupying different spaces designed specifically for them.
"Everywhere that office works, Knotel works really well too," he said.
A company can deal with Knotel to get a variety of spaces instead of having to go through multiple operators. Knotel uses brokers to help lease its space.
The company closed a $60 million round of funding, led by Norwest Venture Partners, in 2018. In total, it has raised $160 million.
Notable clients include Los Gatos-based Netflix Inc. and Seattle-based Starbucks Corp. Sarva said Knotel was able to get a Netflix group into a building in New York City in 10 days. The quick turnaround is beneficial for companies experiencing rapid growth.
"That happens a lot to businesses," Sarva said. "Something is coming up: some big account, some new product, and they need to deal with a problem. They don't have a year to look."
Sarva said there will be dozens of Knotel locations popping up around Los Angeles in the next few months. Beverly Hills, Santa Monica and Culver City are among the areas the company is targeting.
And in the event of a recession, Sarva said the model would be beneficial.
"This business is designed for that," he said. "When companies need to adjust their expenses when a crisis hits, they're not going to be signing big new leases with owners."
• • •
Developer buys former drilling site
Affordable housing developer Thomas Safran & Associates Inc. has purchased a former drilling site in Arlington Heights for $6 million, Klabin Co./CORFAC International announced Feb. 12.
Klabin Co./CORFAC International's Matt Stringfellow represented the buyer in the transaction. The seller was Sentinel Peak Resources, which was represented by Land Advisors Organization's Timothy Barden.
Brentwood-based Thomas Safran & Associates is in the early stages of planning an affordable housing development for the site.
"The site has been cleaned up. We're comfortable with it. It's surrounded by commercial (property), and 100 to 200 feet away are single-family homes. It's a beautiful neighborhood," Thomas Safran, the company's chairman, said.
Safran said he plans to build a mixed-use property with ground-level retail and affordable housing above it. The building, he said, would be five to six stories tall; he did not have additional details on plans for the site.
"We're going to do a beautiful building that will help upgrade and stabilize the neighborhood," Safran said.
The 48,414-square-foot site consists of nine adjacent lots at 1918 4th Ave. and 3330-3320 W. Washington Blvd.
"Ever since this site was closed for oil drilling several years ago, it has been discussed (as) an ideal location for affordable housing," Stringfellow said in a statement.
Thomas Safran & Associates has developed more than 6,000 housing units in Southern California.
Staff reporter Hannah Madans can be reached at hmadans@labusinessjournal.com or (323) 556-8337.
For reprint and licensing requests for this article, CLICK HERE.