Jakks Faces Nasdaq Delisting
RETAIL: Failure to hold shareholder meeting cited
Friday, February 22, 2019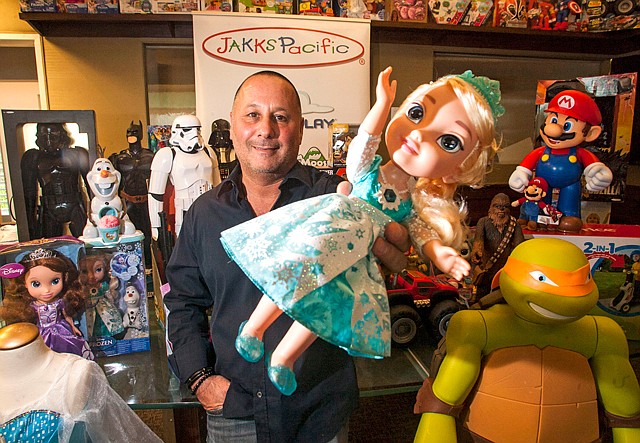 Nasdaq wasn't playing nice when it sent out a notice to the maker of popular Harry Potter and Disney toys warning the publicly traded company it could be delisted.
The Santa Monica toymaker, Jakks Pacific Inc., failed to hold its annual shareholder meeting last year, breaking the exchange's regulations, according to a Jan.11 Securities and Exchange Commission filing.
The filing – along with the bankruptcy of retailer Toys R Us Inc., sliding revenues and weak brand development – led analysts to question Jakks' future. A takeover bid that has dragged on for more than a year could further complicate the picture and signaled internal turmoil, analysts added.
Jakks explained in the SEC filing that the annual shareholder meeting was held up by its unresolved negotiations with Hong Kong-based Meisheng Cultural Co. Ltd., a subsidiary of a Chinese toymaker and children's entertainment company trying to expand its U.S. footprint by purchasing Jakks.
Jakks promised to hold the late meeting "as soon as practicable following resolution of these discussions." But the move signals trouble.
"This is generally quite a negative sign," said Lawrence Harris, a professor at USC's Marshall School of Business and a former chief economist at the SEC.
The noncompliance with Nasdaq rules suggests governance at the company is chaotic and, Harris said, it could mean Jakks doesn't care if it's delisted.
"If they are quite confident they are going to be taken private, they don't care about the listing," he said.
Jakks declined to comment citing a quiet period before it issues its 2018 fourth quarter earnings report Feb. 26.
Takeover bid
Meisheng already owns the largest stake in Jakks at 18 percent, ahead of the second largest shareholder − biotech billionaire and Los Angeles Times owner Patrick Soon-Shiong who own 8.5 percent, according to Jakks' 2017 annual SEC filing, the most recent on record.
Zhao Xiaoqiang, the chairman of the China-based parent company Meisheng Cultural & Creative Corp. Ltd., has a seat on Jakks' board. The company has long partnered with Meisheng, which has an approximately $4.8 billion market cap, enabling Jakks to extend its reach in China where 90 percent of its manufacturing is done. In 2017, for instance, Jakks signed a multiyear licensing deal to distribute more than 50 Walt Disney Co. entertainment properties in the country.
Meisheng has offered to purchase newly issued Jakks' shares in order to increase its stake to 51 percent in a deal that would shift control of the company's key licensing agreements – and possibly reshuffle its business model. The move would also give the Chinese company a greater portion of the $21.6 billion American toy market dominated by Mattel Inc. and Hasbro Inc.
Prev Next
For reprint and licensing requests for this article, CLICK HERE.