AECOM, Canyon Partners Form Commercial Development Joint Venture
Thursday, February 21, 2019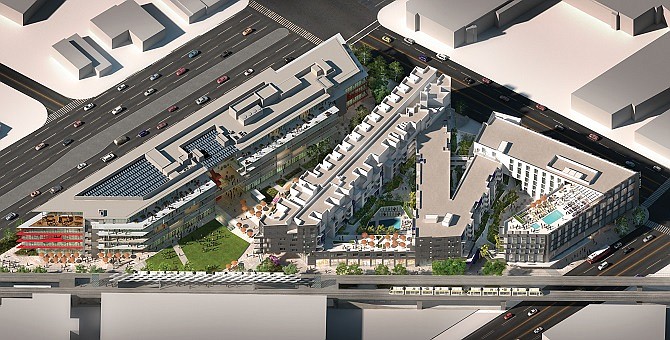 Century City-based AECOM and Century City-based Canyon Partners have formed a joint venture to provide equity for $4 billion of commercial properties, the companies announced Feb. 19.
AECOM-Canyon Partners will look at build-to-core investments in 25 U.S. markets, including Los Angeles. Build-to-core investments are projects that can be developed, leased up, stabilized and sold.
"AECOM-Canyon Partners is seeking to support projects in top markets, including Los Angeles, where structural constraints on development have applied downward pressure on the new supply of real estate assets," Josh Friedman, Canyon's co-founder, co-chairman, and co-chief executive, wrote in an email. "With a partnership that represents a truly unique combination of complementary areas of expertise, we are excited to provide a differentiated capital solution for high quality projects that will serve communities in much-needed ways."
The joint venture will invest in projects valued at $150 million to $500 million in the conceptual stage. The projects being invested in will be projects where a developer has identified and entitled a site but has not broken ground.
AECOM-Canyon Partners declined to comment on how much money will be spent in L.A.
The joint venture will develop multifamily, mixed-use, office and hospitality properties.
"We are excited to expand our direct investing business through a partnership with Canyon, and we believe that this venture represents a truly unique combination of AECOM's commercial real estate development expertise and Canyon's 27 years of investment experience," said Michael S. Burke, AECOM's chairman and chief executive, in a statement.
The group has already committed more than $65 million of equity across three investments including a mixed-use project in Culver City. The project is called the Ivy Station. Ivy Station, which sits on 5.2 acres near the Metro Expo Culver City stop, will have a 240,000-square-foot office building, 200 apartments, a 148-room hotel and 55,000 square feet of retail and restaurant space.

HBO has long been a rumored tenant for the development.
Staff reporter Hannah Madans can be reached at hmadans@labusinessjournal.com or 323-556-8337.
For reprint and licensing requests for this article, CLICK HERE.