Slower Cargo Traffic at Twin Ports in January
Wednesday, February 13, 2019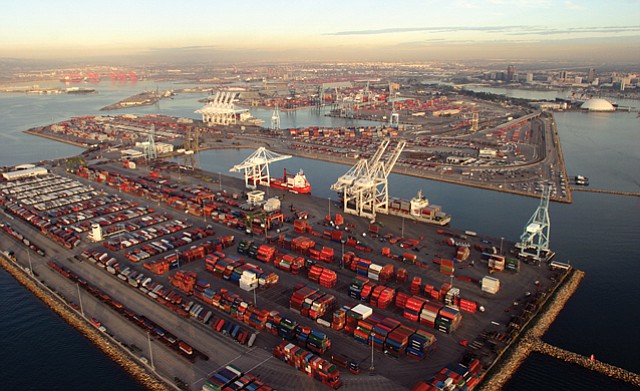 Weak import figures at the ports of Los Angeles and Long Beach in January suggest the rush to import Chinese goods ahead of a possible hefty tariffs may be waning, analysts say.
The Port of Los Angeles reported imports ticked up 1.7 percent compared to the same time last year, while they were near flat at the Port of Long Beach.
The twin ports are the country's largest Asian commercial gateway and import figures are usually an indication of consumer demand, but that barometer has been skewed by an ongoing trade tension with China.
Last year, both ports had record volumes as retailers scrambled to bring in products to avoid possible tariffs on $200 billion worth on Chinese goods.
The move clogged the supply chain and overwhelmed the capacity at the port, said Jock O'Connell, international trade adviser for Beacon Economics.
"It was a mad rush to get your goods past customs," he said. "That's what we saw. Clearly for January the rush is over."
President Trump Tuesday reportedly indicated he may let a March 1 deadline for agreement between the two trade giants slip, unnerving markets.
The ports, which both set historical record years last year, appeared to be tamping down expectations.
"As long as the economy is performing well, we expect our container trade to mirror it," said executive director of the Long Beach port, Mario Cordero.
Long Beach imported 323,838 TEUs (20-foot equivalent units) in January, a 0.3 percent decrease over the prior year. Los Angeles brought in 429,923 TEUs, a 1.7 percent increase. Overall Long Beach handled 657,286 TEUS units compared to Los Angeles, which moved 852,449 TEUS overall. A TEU is a common measure in shipping and two TEUS is equivalent to a standard truck trailer used at the ports.
Manufacturing, retail and trade reporter Rachel Uranga can be reached at ruranga@labusinessjournal.com or (323) 549-5225 ext. 251. Follow her on Twitter @racheluranga
For reprint and licensing requests for this article, CLICK HERE.