Calmwater Capital Provides $63M Loan to Build Thompson Hotel in Hollywood
Tuesday, February 12, 2019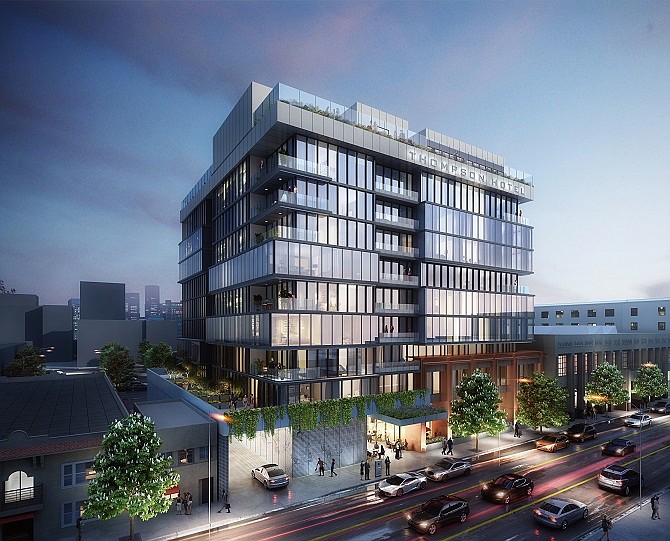 A $63 million loan has been given to the Hollywood-based Relevant Group for the construction of a hotel in Hollywood. The senior secured term loan is for the Thompson Hotel.
The loan is being provided by real estate lender Calmwater Capital. The group announced the loan Feb. 12.
The Thompson Hotel will have 190 rooms, a rooftop restaurant and bar and meeting space at 1541 Wilcox Ave.
"What makes this partnership attractive is the major studio renovations and long-term office leases signed by Netflix, Viacom and Buzzfeed that are causing the demand for hotel space to far outpace supply, as well as the property's ability to serve the needs of executives, actors and crew, and the ongoing flow of international tourists," said Larry Grantham, co-founder and senior portfolio manager of Calmwater Capital, in a statement. "Our long history with Relevant Group and its track record of operating 95 successful properties across eight countries make this a low-risk opportunity to support an incredible project."
Calmwater Capital gave Relevant Group a $34.1 million loan for the nearby Dream Hollywood Hotel in 2016. The loan was used to add a restaurant and other amenities.
When completed, the Thompson Hotel will be managed by Two Roads Hospitality. The group also manages the Relevant Group's Tommie Hollywood.
"In a high-density, heavily-trafficked area, a development like this will primarily cater to tourists, however, the meeting space and restaurants can also be utilized by local residents looking for another dining option or local businesses who might need a small convention space," Grantham said in a statement.
Commercial real estate reporter Hannah Madans can be reached at hmadans@labusinessjournal.com. Follow her on Twitter @HannahMadans
For reprint and licensing requests for this article, CLICK HERE.