Spaces Takes Santa Monica, Pasadena Leases
Co-working firm signs deal at Water Garden for nearly 70,000 square feet
Friday, February 8, 2019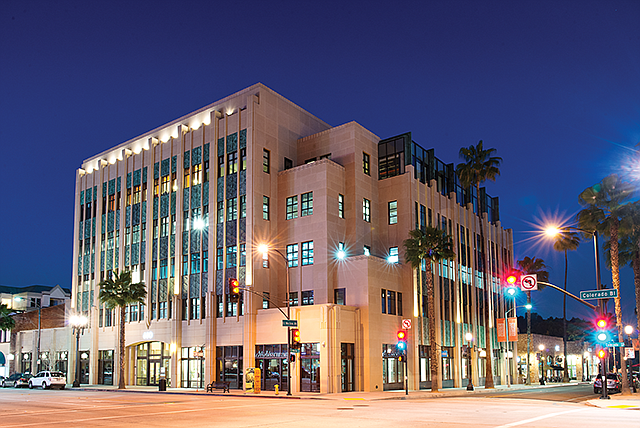 Co-working company Spaces, owned by Switzerland-based IWG, has signed two leases for large blocks of space in Santa Monica and Pasadena.
In Santa Monica, the group signed a 69,208-square-foot lease at the Water Garden, CBRE Group Inc. and JP Morgan Asset Management Inc. announced Jan. 29.
Spaces is expected to move in during 2019's fourth quarter. The value of the lease, which is for 10 years, was not disclosed.
The average Class A asking rate in Santa Monica during the fourth quarter of 2018 was $6.30 per square foot, according to data from Jones Lang LaSalle Inc. That would put the lease value at roughly $52 million.
The Water Garden is owned by investors advised by J.P. Morgan Asset Management. CBRE's Daniel Rainer represented Spaces. CBRE's Amanda Calof, Patti Gilbert and Pat McRoskey represented the landlord.
"Water Garden is one of the premier assets in Los Angeles," Rainer said in a statement. "The thriving green campus is a perfect fit for Spaces. This is their first coworking location in the Santa Monica Media District, a submarket featuring one of the densest tenant rosters of top tech, media and production companies."
Spaces also signed a 130-month lease for 48,831 square feet at the Playhouse Plaza office building at 680 E. Colorado Blvd. in Pasadena, CBRE announced Jan. 31. The location is expected to open in August.
CBRE's Todd Doney and Ryan Pettersen represented the landlord, BIT Playhouse Plaza. CBRE's Matthew Heyn represented Spaces in the transaction.
The average asking rent for Class A buildings in Pasadena was $3.30 a square foot during the fourth quarter, according to JLL data, which puts the lease value at roughly $21 million. An exact lease price was not disclosed.
• • •
$59.4M for senior care facility
A 113-bed assisted living facility under construction in Glendale received $59.4 million in debt and equity financing, Dekel Capital Inc. announced Jan. 29.
East West Bank provided the $38.7 million construction loan, and Dekel provided $20.7 million in equity.
The facility, Sage Glendale Senior Living, is being developed by Willis Development. When completed, it will have 81 assisted living units, 24 private care units for residents with Alzheimer's or dementia, and four semiprivate memory care units.
"The Public Policy Institute of California estimates that by 2030, more than one million seniors will require some assistance with self-care," said Shlomi Ronen, principal at Dekel, in a statement. "In Glendale, where there are fewer than 20 facilities to serve a growing senior population of more than 200,000, this financing will help Willis Development meet the current and future demand for quality senior housing in what is the third largest city in Los Angeles County."
Prev Next
For reprint and licensing requests for this article, CLICK HERE.