RECYCLING REVOLUTION
Moral Fiber targets the garment industry's waste
Friday, February 8, 2019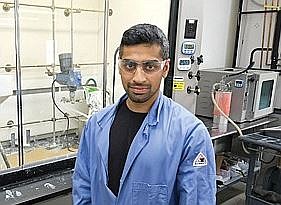 Akshay "Shay" Sethi was an undergraduate student at UC Davis researching extremophile bacteria – tiny organisms that live in extreme environments – when it dawned on him that the chemicals inside these lifeforms could be a solution to the world's plastic pollution crisis.
Four years, $2 million in funding and hundreds of research hours later, he's come up with an inexpensive chemical formula that can break down one of the most ubiquitous plastics: polyester.
Sethi hopes the process – and his company, Ambercycle Inc. – revolutionizes the $316 billion fast-fashion apparel industry by offering a cheap, simple way to turn discarded garments destined for landfills into brand new clothes.
If Ambercycle, which was founded in 2015 and does business as Moral Fiber, can deliver, it would be a boon for retailers and apparel-makers struggling to address growing demand from consumers, policymakers and the industry itself to clean up the waste they create.
"We will be the only clothes (manufacturer) in the world to do everything under one tent, to take the raw material and go all the way to the finished product," Sethi said.
The idea of recycling fabrics used in apparel is known in the industry as closing the loop, and it's been the buzz of "woke" clothing manufacturers for years as they try to reabsorb the waste they produce.
And there's a lot of it.
The American Apparel & Footwear Association estimates that Americans consume about 66 pieces of clothing a year. Much of that ends up in landfills − about 10.5 million tons of textiles, according to the most recent figures from the Environmental Protection Agency.
Local apparel-makers, such as downtown-based Guess Inc. and Lucky Brand, are searching for alternative solutions.
"There are a lot of manufacturers out there looking for an option," said Allison Charalambous, social compliance manager at Lucky Brand.
The label best known for jeans and its California casual style has, like other brands, been grappling with how to deal with the stream of toss-away material created during production. The two main options are to break down fabrics or send bales of scraps and clothes to secondary markets in foreign countries. The latter option might have a limited window of viability, however, with China and some countries in Africa attempting to block the stampede of clothes.
"I have reached out to other sustainability managers," Charalambous said. "They don't have a solution."
Polyester problem
Fashion brands that have recycling programs, such as Guess, rely on products being either reused as second-hand clothing or shredded and repurposed for rags or couch stuffing. Clothes' lifetime may be extended by the process, but it doesn't fix the core problem because these products ultimately end up in the dump as well.
For reprint and licensing requests for this article, CLICK HERE.
Prev Next