Krost Adds West L.A. Accounting Firm to Roster
Deal for Gaynor & Umanoff gives Pasadena-based firm first Westside outpost
Friday, February 8, 2019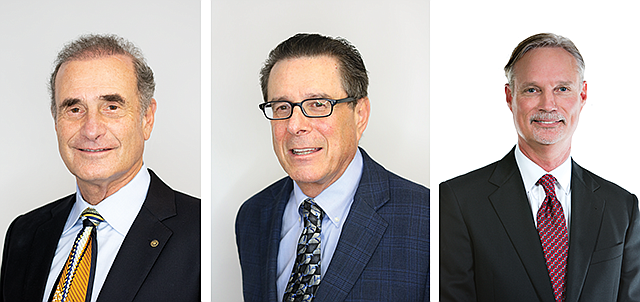 Pasadena-based accounting and consultant firm Krost has purchased West L.A.-based Gaynor & Umanoff, according to the firms.
Terms of the transaction were not disclosed.
Chris Gaynor and Richard Umanoff, Gaynor & Umanoff's principals, and others with the West L.A. firm bring "industry depth and technical expertise" that will benefit Krost's tax department, according to Krost Managing Principal Greg Kniss.
"We were looking for really good talent, expertise from the partners and quality of clients – and, also, location," said Kniss in an interview. "It's presence on the west side of Los Angeles is helpful for staff retention if you have long commutes to our offices in Pasadena and Woodland Hills. And there are clients on the west side, it helps to us to service them better."
The last Krost acquisition came in 2015 with the addition of Douglas Venturelli & Co.
The Gaynor & Umanoff acquisition gives Krost four regional offices with Valencia and Woodland Hills outposts in addition to its Pasadena headquarters and the West L.A. offices it just added. The firm ranks No. 26 on the Business Journal's 2019 list of Los Angeles County-based accounting firms. The addition of two principals, two directors and nine associates at Gaynor & Umanoff, brings Krost's employee count to 170 firmwide.
The Krost practice was formerly known as Krost Baumgarten Kniss & Guerrero until two years ago when it was renamed Krost to reflect its larger presence in the region. The firm was founded in 1939 by Kniss' grandfather Robert Krost.
Gaynor & Umanoff, which was formed in 1970, specializes in tax preparation, estate planning, business consulting and payroll services.
Krost was also No. 73 on the Business Journal's 2018 list of Fastest Growing Private Companies. The firm's revenue grew 62 percent to $33.1 million over the three-year period from 2015 to 2017 from $20.4 million.
Krost is a full-service certified public accounting and consulting firm servicing clients across several industries, including construction, entertainment, financial, hospitality, legal, manufacturing, nonprofit, real estate and retail.
• • •
OpenGate Capital raising
for second fund
Century City-based private equity firm OpenGate Capital, which invested privately from its 2005 inception until 2015 when it launched its first fund with $305 million, has filed plans with the U.S. Securities and Exchange Commission to raise a new $450 million fund.
The company declined to comment on the raise for its OpenGate Capital Partners II fund.
OpenGate, which invests in industrial companies in areas such as plastics or zinc oxides, has nine portfolio companies that generated a combined revenue of $2 billion, according to OpenGate founder Andrew Nikou. At the end of January, OpenGate agreed to buy Sargent and Greenleaf Inc., a Nicholasville, Ky.-based manufacturer of mechanical and electronic locks. The acquisition is expected to be completed by March 31.
Prev Next
For reprint and licensing requests for this article, CLICK HERE.