Sharing Space | Co-working companies are feasting on L.A., and landlords want a piece
SPECIAL REPORT: CO-WORKING
Friday, February 1, 2019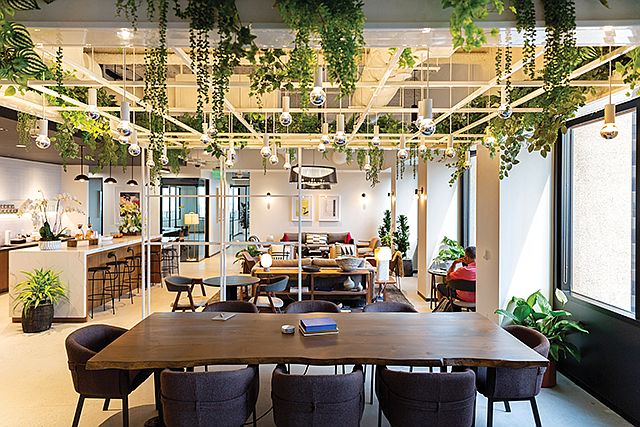 In the last few years, co-working has exploded in L.A. as dozens of operators fight for a piece of the business.
Seven different brands have more than 100,000 square feet of co-working space in Los Angeles County, according to data from CBRE Group Inc., and Business Journal estimates put total co-working square footage of the top 100 spaces at just under 3 million. Brokers said Los Angeles was the second largest market in the country for co-working space after New York.
New York-based co-working heavyweight WeWork Cos. Inc. is the largest player in the region with 1.2 million square feet spread across 19 L.A. County locations. Regus Corp. is the second largest with 905,000 square feet spread across 49 locations. Other operators with sizeable footprints include Irvine-based Premier Office Centers, which does business as Premier Business Centers; Barrister Executive Suites Inc., based in Sawtelle; Santa Monica-based Cross Campus Inc.; New York-based Industrious; and Spaces. Both Regus and Spaces are subsidiaries of IWG, which is based in Switzerland.
"We've seen just an amazing amount of space being taken down," said Steven Kolsky, an executive vice president at brokerage firm Newmark Knight Frank.
Flexible office space – which is any space that doesn't require a long-term lease and is generally furnished – accounts for less than 5 percent of U.S. office stock but is expected to grow to 30 percent of the market by 2030, according to research from Jones Lang LaSalle Inc.
"The typography of L.A. is actually playing right into co-working's hand," JLL Southwest Market Director Peter Belisle said. "There's more of a workplace strategy to have additional or satellite locations in areas where people live."
Michael Berretta, vice president of network development for IWG, agreed.
"L.A. is a unique part of the country for us because of its density," Berretta said. "That, coupled with a massively diverse business community, has given us a great opportunity to build our network."
Companies that lease co-working space sometimes use L.A. locations as a recruiting tool to attract talent that doesn't want a long commute to a centralized office that may be across town. WeWork, Belisle said, was one of the first co-working companies to market itself this way in Los Angeles, which helped it expand aggressively.
Landlord partnerships
WeWork and other co-working companies' expansion in L.A. has been rapid, but there is starting to be some shifts in the market as property owners look to mimic the early-comers' business strategy. In the past, landlords traditionally leased to a co-working company, which then subleased to other companies looking for flex workspace.
Some landlords are looking to cut out the middleman – at least on the leasing front – and hire co-working companies to manage the spaces.
"Some landlords are looking at this model and deciding to do this themselves rather than involving a third party," Kolsky said.
Natalie Birren, the area manager for Industrious, said the company was starting to partner with landlords, allowing property owners to handle leasing for both companies and individuals while the firm collects management fees.
Industrious has locations in Century City, West Hollywood and downtown. It plans to open in the next six months an additional downtown location, one in Glendale and one in the Westside's Playa District development.
Its three current locations are traditional leases, but the three locations set to open in the coming months are all management contracts or partnerships, a shift for the company.
"It's a new, exciting phase for Industrious," Birren said. "Landlords look to Industrious as a benefit to have someone like us managing their amenities."
The group partnered with Plano, Texas-based Granite Properties Inc. for their Glendale location, which will have 24,000 square feet of co-working space at 500 N. Brand Blvd.
"The commercial real estate world is shifting rapidly, and the way that businesses are using workspaces is shifting rapidly," Granite Properties Senior Managing Director Jason Purvis said of the group's interest in co-working.
Beretta said, in the next 24 months, IWG's Spaces subsidiary will make a similar shift toward co-working space management and will focus on partnerships with property owners rather than subletting.
"It's a natural progression of the traditional landlord relationship with tenants," Beretta said.
Retail ready?
As L.A.'s office market tightens and lower-tier shopping malls face vacancies as retailers shut their doors, some are offering a potential solution: co-working spaces inside retail centers.
These locations, observers said, have ample room – as well as parking, retail and food options that can be attractive to companies looking for co-working space.
Belisle said co-working units at malls would be a great way to repurpose space that is not well-utilized.
Beretta recently signed his first mall lease in Atlanta and is evaluating reuse properties around the country.
Vincent Chang, an associate market director at Cushman & Wakefield Inc., said co-working companies are increasingly looking at retail and mixed-use projects as possible locations.
"They are really looking to develop not just amenities within but utilize the vast amenities these areas offer," Chang said. "It's a value play. They know what these tenants are looking for."
Recession question
The big question for co-working, however, is what happens if there is another economic downturn.
Kley Sippel, WeWork's general manager for Southern California, said co-working companies like WeWork could see a benefit as other companies look for ways around long-term lease commitments.
"When you look at a downturn, the most valuable thing for anyone is flexibility, and that is our core value proposition," he said.
But it may be more complicated than that.
Belisle said companies using co-working spaces as satellite offices with short-term leases may drop those locations while others will only look for short-term leases.
Another factor could be type of tenant co-working spaces lease to.
Most companies that lease space at Industrious' co-working locations are 12 to 13 years old, according to Birren, and that maturity would be a benefit in a recession because those companies typically are less fragile than startups.
John Arenas, the chairman and chief executive of Serendipity Labs Inc., also has many established companies as tenants.
"Independent networks and smaller locations will have difficulties, but the established brands will continue to do well because companies will not renew a traditional, long-term lease and move into smaller quarters. It's a very recession resistant industry," he said.
Jeff Reinstein, chief executive officer at Premier Business Centers, said after the last recession, companies wanted more flexibility
"With traditional space, you need to figure out how much office space you are going to need for the next 10 or 15 years," he wrote in an email. "With co-working, you generally have the ability to increase or decrease the amount of space you rent on a month or two months' notice."
This minimizes liabilities for long-term leases, which Reinstein said is a huge benefit.
In a recession, co-working companies won't disappear, but the number in the market may shrink.
"There will be a disruption, and you'll see some players out of the market and some players scramble to readapt. There will likely be a lot of spaces that come back on the market," Kolsky said.
Reinstein also thinks there will be fewer players in the game. 
"I think that there is going to be a lot of consolidation as co-working companies that haven't figured out how to make a profit fail," he wrote. "I also think that a lot more landlords will partner with companies like Premier to incorporate shared space components within their projects that they can fully control but also generate more revenue than they would get leasing to a traditional tenant."
For reprint and licensing requests for this article, CLICK HERE.