Sharing Space | Co-working companies are feasting on L.A., and landlords want a piece
SPECIAL REPORT: CO-WORKING
Friday, February 1, 2019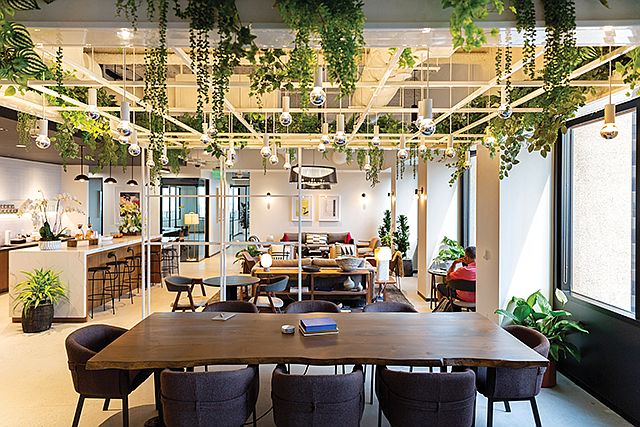 In the last few years, co-working has exploded in L.A. as dozens of operators fight for a piece of the business.
Seven different brands have more than 100,000 square feet of co-working space in Los Angeles County, according to data from CBRE Group Inc., and Business Journal estimates put total co-working square footage of the top 100 spaces at just under 3 million. Brokers said Los Angeles was the second largest market in the country for co-working space after New York.
New York-based co-working heavyweight WeWork Cos. Inc. is the largest player in the region with 1.2 million square feet spread across 19 L.A. County locations. Regus Corp. is the second largest with 905,000 square feet spread across 49 locations. Other operators with sizeable footprints include Irvine-based Premier Office Centers, which does business as Premier Business Centers; Barrister Executive Suites Inc., based in Sawtelle; Santa Monica-based Cross Campus Inc.; New York-based Industrious; and Spaces. Both Regus and Spaces are subsidiaries of IWG, which is based in Switzerland.
"We've seen just an amazing amount of space being taken down," said Steven Kolsky, an executive vice president at brokerage firm Newmark Knight Frank.
Flexible office space – which is any space that doesn't require a long-term lease and is generally furnished – accounts for less than 5 percent of U.S. office stock but is expected to grow to 30 percent of the market by 2030, according to research from Jones Lang LaSalle Inc.
"The typography of L.A. is actually playing right into co-working's hand," JLL Southwest Market Director Peter Belisle said. "There's more of a workplace strategy to have additional or satellite locations in areas where people live."
Michael Berretta, vice president of network development for IWG, agreed.
"L.A. is a unique part of the country for us because of its density," Berretta said. "That, coupled with a massively diverse business community, has given us a great opportunity to build our network."
Companies that lease co-working space sometimes use L.A. locations as a recruiting tool to attract talent that doesn't want a long commute to a centralized office that may be across town. WeWork, Belisle said, was one of the first co-working companies to market itself this way in Los Angeles, which helped it expand aggressively.
Landlord partnerships
WeWork and other co-working companies' expansion in L.A. has been rapid, but there is starting to be some shifts in the market as property owners look to mimic the early-comers' business strategy. In the past, landlords traditionally leased to a co-working company, which then subleased to other companies looking for flex workspace.
Prev Next
For reprint and licensing requests for this article, CLICK HERE.