Next in Line | Co-working is already massive; co-living could be even bigger
SPECIAL REPORT: CO-WORKING
Friday, February 1, 2019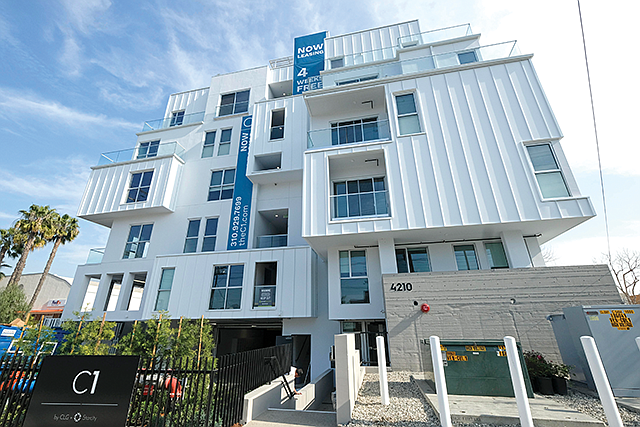 The multifamily development at 4210 Del Rey Ave. in Marina del Rey has a public kitchen in the lobby.
This seemingly misplaced scullery isn't, however, a grievous error by an inattentive architect or a rogue contractor; it's part of what could be the next big trend in Los Angeles real estate: co-living.
Projects advertised as such are popping up around the region, and, while the co-living label is still a nebulous term – it can refer to dorm-style rooms with shared kitchens and common rooms, smaller apartments with larger shared features, or even pod-like recesses practically stacked on top of each other – the concept is gaining traction as an affordable housing option.
"The co-living space is a solution that fits a piece of the housing demand that we have, and that piece is more attractive to younger, primarily single people like new college graduates and kids a couple of years outside of school who are looking for more affordable ways to live," said developer Steven Fifield, co-founder of Brentwood-based Century West Partners.
Fifield said many developers are studying the viability of co-living spaces in Los Angeles County.
At the Marina del Rey co-living project, which was developed by West Los Angeles-based California Landmark Group, the concept is already in practice. Dubbed C1, the multifamily compound opens this month as a hybrid of sorts: It has 51 traditional apartment units priced at market-rate and 62 co-living units available at a discount. The co-living units start at $1,800. Traditional apartments start at $2,599. The project, which cost roughly $30 million to build, is operated by San Francisco-based property management firm Starcity Properties Inc. The company works exclusively with co-living properties.
Jon Dishotsky, co-founder and chief executive at Starcity, said the high cost of traditional housing was a driving factor in his decision to get into the co-living property management business. He said Starcity is focused on West Coast cities with barriers to entry to the housing market.
Paul Schon, co-founder of Hollywood-based developer Schon Tepler Group Inc., said his firm broke ground last year on the company's first co-living project – a 40-bed building in East Hollywood. The development will have eight units, each with five bedrooms and five bathrooms. Each unit has a common kitchen and living room. Schon said it's scheduled for completion in 2020.
Other projects in Los Angeles have repurposed existing structures and worked to reshape them into co-living compounds under existing entitlements, including a project by San Francisco-based Node Inc. – which is set to open its first L.A. location in Echo Park in February. The company said units, which are at least 600 square feet and about 75 percent of the size of a one-bedroom apartment, start at $1,600.
"We're value for where we are and what we're offering versus the alternative," Node founder and Chief Executive Anil Khera said.
Khera said the co-living concept lends itself to millennial renters as well as seniors and empty nesters.
Affordable push
The co-living concept is already popular in Europe and is a budding part of the development landscape in more expensive U.S. cities, such as Los Angeles. Its rise is driven by a combination of real wage stagnation, rising housing costs and a lack of housing stock near urban cores, according to UCLA Anderson School of Management professor Eric Sussman.
"There is a significant, growing demand for affordable housing," Sussman said. "That is unequivocal. You won't get too much debate or pushback on that point."
Other solutions – such as expanded rent control laws – have failed at the ballot box, and zoning regulations requiring affordable housing units are "just a drop in the bucket," he said. The remaining solutions are either more housing stock or more people in buildings. Co-living approaches the problem from the latter trajectory.
The affordable housing crunch in Los Angeles is drawing attention from European developers that have experience with co-living projects.
Quarters, a subsidiary of Berlin-based Medici Living Group, announced last month a $300 million expansion into the United States over the next three years and plans to build some 1,300 units.
The company has not formally announced any L.A. locations yet, but Medici founder and Chief Executive Gunther Schmidt said the company would later this year. He said co-living rooms are generally 10 to 20 percent cheaper than studio apartments in the same neighborhood, and the company's locations generally house 80 to 300 residents.
Schmidt gave credit to co-working companies like WeWork Cos. Inc. for creating some of the growing enthusiasm for co-living.
"When we started out six years ago, the term co-living didn't even exist yet," Schmidt said. "People wanted more affordable housing and wanted to be in the heart of the city and not the outskirts. But real estate still wasn't ready for that yet. We have now seen stronger growth in co-working and players like WeWork really creating a big clout around that. WeWork is now one of the most valuable products in the U.S. That was an eye opener for a lot of real estate developers that thought, 'Hey we don't want to lose on the trend again.'"
Developing difficulties
Sussman said developers working on co-living may encounter some issues with overcrowding concerns and the entitlement process.
"Cities and permit granting authorities have a certain project they are used to seeing, and there are zoning rules which specify what you can build," Sussman said. "When you're talking about quasi dorm housing, my gut is that in many cities, zoning doesn't allow for it."
Schon, the principal at Schon Tepler Group, said there are other difficulties in getting co-living developments off the ground. He said that while the company was actively developing 16 other apartment projects, only the 40-unit East Hollywood building had a co-working component because lenders are unfamiliar with the concept and hesitant to finance the projects.
"The lenders are not that used to it," Schon said. "I think it's going to become a trend once lenders understand it and it becomes an asset type."
Schon said another reason co-living is taking so long to become mainstream is a lack of inventory. Companies like WeWork were able to come in and lease empty office space quickly, but there isn't the same supply of empty housing – let alone housing that can be converted into co-living units.
Communal lifestyle
As co-living developments continue to roll out, the target market for these units and what is offered continues to evolve. While most co-living is geared toward millennials, some companies are trying to find ways to apply it to families.
Aimee Ho, a senior designer at Irvine-based KTGY Architecture and Planning, said the group is looking at units with four beds and a smaller kitchen and living area. Each floor would have four units.
"That number can encourage connectivity without being overwhelming," Ho said.
Others are pushing co-living in the opposite direction, with ultra-small units designed for creative professionals.
Upstart, based in Hollywood, has two co-living locations in East Hollywood, one in Silver Lake, one in Echo Park and one in Franklin Village. It offers Japanese-style pods exclusively to people pursuing creative careers. Pods cost around $750 a month and include access to a recording studio, movie theater, tape audition rooms and classes. Renters have lockers where they can store their belongings
Upstart is considered a private club, and uses a membership platform and offers classes, which Chief Executive Jeremiah Adler said allows it to only allow people in specific careers to live at its locations.
"We heavily curate the people we bring in," Adler said.
Upstart has 300 units in L.A. and plans in the next 18 months to push toward 1,000, according to Adler. As part of the increase, the company is looking to add seven to 10 additional locations in Los Angeles in the next two years.
Adler wants to expand the concept to other cities as well.
"It's blowing up," Adler said. "We're going to start to see a lot of other operators in the city in the coming years. It's a crazy new way that millennials are living, and I think it's going to become pretty disruptive to the real estate world."
For reprint and licensing requests for this article, CLICK HERE.