Next in Line | Co-working is already massive; co-living could be even bigger
SPECIAL REPORT: CO-WORKING
Friday, February 1, 2019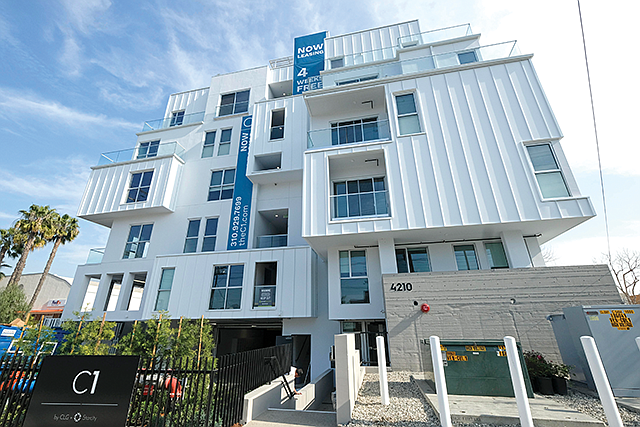 The multifamily development at 4210 Del Rey Ave. in Marina del Rey has a public kitchen in the lobby.
This seemingly misplaced scullery isn't, however, a grievous error by an inattentive architect or a rogue contractor; it's part of what could be the next big trend in Los Angeles real estate: co-living.
Projects advertised as such are popping up around the region, and, while the co-living label is still a nebulous term – it can refer to dorm-style rooms with shared kitchens and common rooms, smaller apartments with larger shared features, or even pod-like recesses practically stacked on top of each other – the concept is gaining traction as an affordable housing option.
"The co-living space is a solution that fits a piece of the housing demand that we have, and that piece is more attractive to younger, primarily single people like new college graduates and kids a couple of years outside of school who are looking for more affordable ways to live," said developer Steven Fifield, co-founder of Brentwood-based Century West Partners.
Fifield said many developers are studying the viability of co-living spaces in Los Angeles County.
At the Marina del Rey co-living project, which was developed by West Los Angeles-based California Landmark Group, the concept is already in practice. Dubbed C1, the multifamily compound opens this month as a hybrid of sorts: It has 51 traditional apartment units priced at market-rate and 62 co-living units available at a discount. The co-living units start at $1,800. Traditional apartments start at $2,599. The project, which cost roughly $30 million to build, is operated by San Francisco-based property management firm Starcity Properties Inc. The company works exclusively with co-living properties.
Jon Dishotsky, co-founder and chief executive at Starcity, said the high cost of traditional housing was a driving factor in his decision to get into the co-living property management business. He said Starcity is focused on West Coast cities with barriers to entry to the housing market.
Paul Schon, co-founder of Hollywood-based developer Schon Tepler Group Inc., said his firm broke ground last year on the company's first co-living project – a 40-bed building in East Hollywood. The development will have eight units, each with five bedrooms and five bathrooms. Each unit has a common kitchen and living room. Schon said it's scheduled for completion in 2020.
Other projects in Los Angeles have repurposed existing structures and worked to reshape them into co-living compounds under existing entitlements, including a project by San Francisco-based Node Inc. – which is set to open its first L.A. location in Echo Park in February. The company said units, which are at least 600 square feet and about 75 percent of the size of a one-bedroom apartment, start at $1,600.
For reprint and licensing requests for this article, CLICK HERE.
Prev Next