Chiang Moves to Private Sector
FINANCE: Former state treasurer racks up board appointments, joins law firm
Friday, February 1, 2019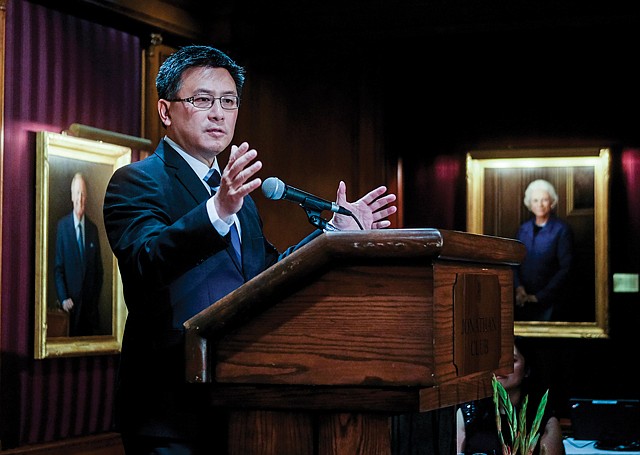 Alhambra-based law firm Ideal Legal Group Inc. late last month brought on former California State Treasurer John Chiang in a nonpartner role.
Chiang, a Democrat who served as treasurer from 2014 to 2019 and made an unsuccessful bid for governor last year, was named of counsel and will help advise on relationships with Asian clients and complex litigation matters. Chiang began his career as a tax law specialist with the IRS.
The appointment is the fifth position added to Chiang's resume since he left office on Jan. 6, the former state treasurer told the Business Journal in an interview.
"I'm pretty ecstatic," Chiang said. "The work is very challenging and dynamic. I am trying to mesh the backdrop of public policy with the private markets. There is an extraordinary learning curve. I deeply loved my time in public office, but everything has a time and place."
Chiang, 56, on Jan. 17 joined the board of Apollo Medical Holdings, a publicly traded health management company based in Glendale. Chiang said he also joined the boards of three privately held companies last month, including Zeuss Technologies Inc., a Palo Alto-based anti-money laundering platform for cash-intensive industries, such as cannabis; Aegis Systems Canada Inc., a Vernon, British Columbia-based cybersecurity firm; and Pasadena Private Finance, a Pasadena-based commercial lender.
Evie Jeang, founder and managing partner at Ideal Legal Group, said in a statement issued last week that Chiang's expertise in financial regulations and tax law will be "significant" in litigating and settling the firm's legal disputes.
"We could not be more thrilled to have him join our team," Jeang said in a statement. The firm, which is involved in high-conflict divorces, child support cases, and property and civil litigation matters, was founded in 2006 and has offices in San Francisco and New York City.
Chiang said his work with Ideal Legal will involve providing "strategic advice on a whole host of matters" for clients with "strong Asian relationships." He declined to elaborate.
Chiang, who said he is in discussions to act as a board member for additional firms, said he also has a financial consulting contract for an undisclosed client in California.
In the work with Zeuss, Chiang said he is examining "taxing issues" in the cannabis industry in California, and how to take the industry "out of the shadows and make sure it is fully operational and compliant with the laws of California."
For reprint and licensing requests for this article, CLICK HERE.