APM Setback in Automation Quest
PORTS: Terminal upgrade permit pulled amid labor strife
Friday, February 1, 2019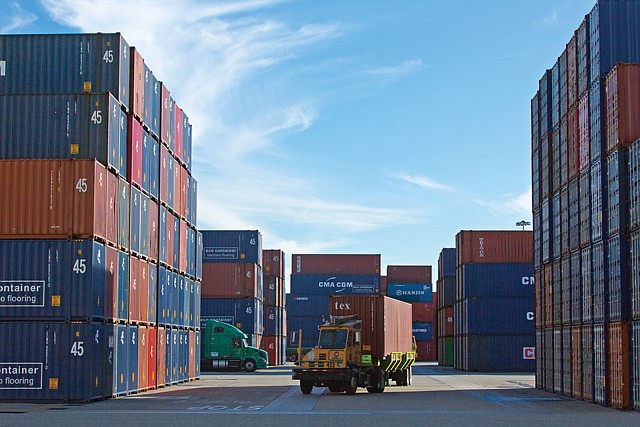 He warned the five-member commission appointed by Garcetti not to meddle.
"We have a labor agreement, and I have the ability to automate our facility in accordance with the labor agreement," Ochs said. "If labor wants to challenge me on that, we will deal with it inside this contract."
Under contract terms negotiated in 2008, operators can use automated cargo-handling machines that replace workers.  
Labor conflict
The setback for APM is the latest in a series of recent standoffs at the port involving terminal operators and labor unions.
A week before Seroka pulled APM's permit applications, one of the region's biggest logistics firms, California Cartage Co., announced it would shut down its sprawling 85-acre Wilmington warehouse in July. The company had been plagued by labor violations, and the exodus was seen as win for the International Brotherhood of Teamsters, which has been organizing drivers and warehouse workers at the port for years.
The decision, however, also entangled the city in a messy fight over how much influence it can exert over a private company's labor decisions.
Los Angeles City Councilman Joe Buscaino championed the rejection of a lease renewal for California Cartage, a subsidiary of Cherry Hill, N.J.-based NFI Industries Inc., saying he was aghast at the company's record of labor violations and labor discord, which included workers compensation and wage claims. The next occupant to lease the land will have to adhere to a labor peace agreement, Buscaino said.
But with that conflict ended, the councilman is now at the center of the battle between APM and International Longshore and Warehouse Union.
Automation is the biggest threat to the ILWU, which represents about 12,000 unionized dock workers in Los Angeles and Long Beach, and has a contract locked in until July 2022. An average full-time dock worker earns $175,000 in annual wages, according to the Pacific Maritime Association, which represents shippers and terminal operators.
"I am trying to prevent another Detroit, another Allentown," said Buscaino, who represents the harbor area and said talks between the union and terminal operators are underway.
Buscaino sees his role as similar to the one Garcetti played in ending a more than weeklong teachers' strike that roiled the Los Angeles Unified School District last month.
"Any threat of taking those jobs away is a threat to our local economy and a threat to the people I represent."  
For reprint and licensing requests for this article, CLICK HERE.
Prev Next