LA Companies Prep for CES
Tech: Ring, Quibi among brands heading to Las Vegas
Friday, December 20, 2019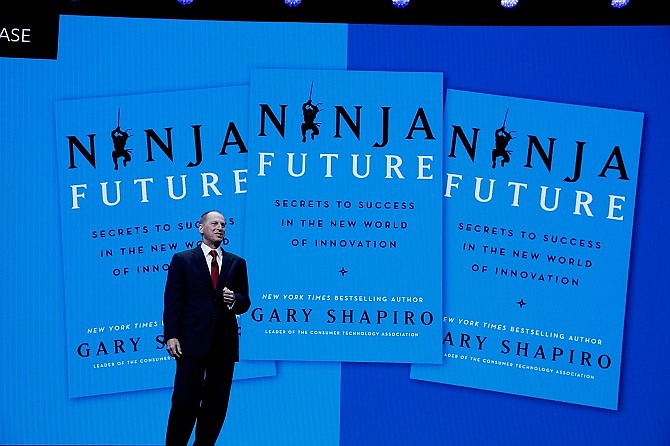 Although it takes place at the Las Vegas Convention Center, the 2020 Consumer Electronics Show is a key event for technology companies and startups based in Los Angeles.
Staged annually by the Arlington, Va.-based Consumer Technology Association, last year's show drew more than 170,000 exhibitors, spectators and media personnel. This year's event is expected to pull in more than 175,000 attendees and 4,500 exhibitors.
Several L.A.-based software and hardware makers will be in attendance Jan. 6-10 alongside a growing number of streaming services, electric automakers and tech-related service providers.
Streaming newcomers
Top execs from Hollywood-headquartered streaming service Quibi are scheduled to deliver a keynote address. Founder Jeffrey Katzenberg and Chief Executive Meg Whitman will take the stage Jan. 8 to speak about the streaming company's upcoming launch.
"It is an honor to host Meg and Jeffrey, both titans in the technology and entertainment industry, who have joined forces to revolutionize the mobile subscription video streaming industry with the upcoming launch of Quibi," Consumer Technology Association Chief Executive Gary Shapiro said in a statement.
"Meg and Jeffrey are committed to producing content for their audience that will transform what's possible in short-form video programming," Shapiro added.
Quibi is expected to launch in April 2020 with a monthly subscription fee that ranges from $4.99 to $7.99.
Santa Monica-based camera doorbell manufacturer Ring Inc. will also attend CES and is expected to launch at least one new product.
It appears there are at least eight new products in the pipeline for Amazon.com Inc.-owned Ring. The company has filed eight grants for equipment authorization with the Federal Communications Commission since Oct. 22, including updates to its Chime and Chime Pro network extenders, a stick-up surveillance camera and a smart light bulb. Ring also filed requests for a third-generation video doorbell, which has not yet hit the market.
Ring would not disclose what it will announce this year at CES, but the company has used the conference as a launchpad in the past. Last year it revealed a new line of smart lighting, an updated camera doorbell called the Door View Cam, and a Ring alarm that doubles as a smoke sensor.
LA players
Quibi isn't the only L.A.-based streaming service scheduled to exhibit at the conference. Santa Monica-based Hulu will attend, as will West Hollywood-based Pluto TV.
Hulu will likely spend CES previewing new programming it hopes will entice new viewers and compete with Disney Plus, the newest streaming service that is broadcasting much of Burbank-based Walt Disney Co.'s immense catalog.
Prev Next
For reprint and licensing requests for this article, CLICK HERE.