Fully Entitled Sites See an Increase in Demand
Deals allow buyers to bypass lengthy approval process
Friday, December 20, 2019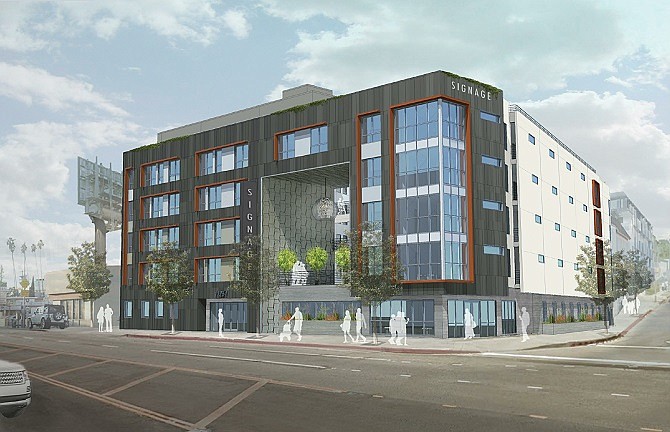 Fully entitled sites are selling in L.A.
These properties, which are already approved for specific projects, can give the buyer a big head start because of the region's notoriously slow approval process.
"Anywhere in Southern California, the largest obstacle for real estate development is the entitlement process with the city," said Jones Lang LaSalle Inc.'s Bryan Lewitt. "It makes it a unique opportunity when an entitled property comes to the market."
On Dec. 13, Santa Monica-based BLT Enterprises announced it had sold a former gas station and parking lot in West Los Angeles for $13.75 million to Wiseman Residential.
BLT had already received entitlements for a six-story, 119-unit project on the site at 11261 Santa Monica Blvd. in West L.A.
Designed by architecture firm KFA, the apartment building will have a gym, patios and a community gathering area. It will also include 17 affordable housing units.
"In line with our ongoing strategy to identify the highest and best use for each of our properties, we recognized that this asset was best suited for multifamily redevelopment," Bernard Huberman, founder and president of BLT Enterprises said in a statement. "Based on our expertise, we completed the entitlement process and decided to sell to a prominent multifamily developer while reinvesting in properties that more closely reflect our core focus in creative office and industrial spaces." 
BLT acquired the property in 2007 for $6.4 million. In 2017, it started the entitlement process.
Newmark Knight Frank's Anthony Muhlstein and Brian Bowis represented BLT Enterprises in the transaction. Wiseman Residential was self-represented.
To the east, Beverly Hills-based Bolour Associates Inc. sold an entitled site in Pasadena for $8.5 million. It was purchased by West Hollywood-based APPA Real Estate.
The site, at 3768 E. Colorado Blvd. in East Pasadena, will be developed into a mixed-use multifamily project with 5,800 square feet of ground-floor commercial space and 100 multifamily units. Five of the units will be classified as affordable housing.
The property will also have a gym, coworking space, rooftop deck and dog run.
Bolour spent 2015-2018 re-entitling the land for its current use.
"We recognized that there was a zone change coming and used our resources to purchase, hold and entitle this land until we found just the right buyer," Adam Eisenberg, Bolour's vice president of development, said in a statement.
The project is expected to break ground in 2020 and open in 2022.
The buyer and the seller were self-
represented in the transaction.
Both sites take advantage of the Transit Oriented Communities program, which offers concessions to development rules — such as reduced parking requirements — for projects near public transportation that include affordable units.
Another entitled site recently hit the market in West Covina. The property, at 1415 W. Garvey Ave., is being listed by JLL.
The land is entitled for a senior housing facility with up to 92 units and 107 beds.
Lewitt said the owner originally purchased the land for multifamily housing but the city wanted senior housing. The owner then worked on entitling the site for senior housing and is now trying to sell it.
"If the multifamily market gets overcooked and people are stuck with sites, this is one strategy to dispose of it for a handsome profit," Lewitt said.
Senior living facilities are also in high demand.
Over the last five years, senior housing gave investors a 14% return on investment, compared with a 9.2% return on multifamily investments, according to data from CBRE Group Inc.
Lewitt said the West Covina site could give buyers a 17% return on investment, taking into account a two-year build and lease-up time.
For reprint and licensing requests for this article, CLICK HERE.