Frontier Airlines Adds 5 Flights at Ontario Airport
Wednesday, December 18, 2019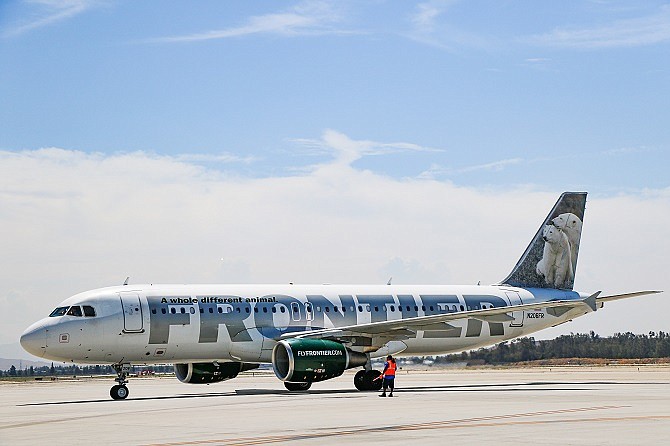 In a major boost for Ontario International Airport, Frontier Airlines announced Dec. 18 it will add five flight routes at the Inland Empire airport next year, including two to Central American countries.
The Denver-based discount carrier will begin nonstop service from Ontario to Newark, N.J., Miami and Las Vegas in April, followed by international flights to El Salvador and Guatemala in May and June, respectively. Service to the three domestic airports will be daily; by June, Frontier will operate three weekly flights to El Salvador and four weekly flights to Guatemala.
The new routes will be served with Airbus A320 aircraft, each with a capacity of 180 seats.
Currently, the only nonstop service to these locations from Ontario is on Southwest Airlines to Las Vegas; service to the other four airports requires at least one connecting flight.
Additional flights from Ontario were part of a larger slate of 25 new routes from airports around the country that Frontier announced on Dec. 18. The discount airline has been expanding rapidly in recent years.
For Ontario International, which draws heavily from the San Gabriel Valley, the Frontier announcement represents a significant boost, further opening the Latin American and East Coast markets. Frontier began service from Ontario in 2017, just after the airport was spun off from the Los Angeles World Airports system.
"We're delighted to expand our service in Ontario with the only ultra-low-cost, nonstop service to Las Vegas, Miami, Newark and two Central America destinations," Daniel Shurz, senior vice president of commercial for Frontier Airlines, said in the announcement. "This new service offers area residents truly affordable coast-to-coast and international flying options to sought-after destinations."
Ontario International Airport has been the fastest-growing commercial airport by passenger counts in the U.S. for two years running, according to rankings released Dec. 12 by Global Traveler magazine.
For the first 10 months of 2019, 504,000 passengers went through the gates at Ontario, up 10.5% from the first 10 months of 2018. By comparison, passenger volume at Los Angeles International Airport was up less than 1% for that same period.
Healthcare/biomed, energy, engineering/construction and infrastructure reporter Howard Fine can be reached at hfine@labusinessjournal.com. Follow him on Twitter @howardafine.
For reprint and licensing requests for this article, CLICK HERE.