Moving Man
Engineering: Despite a series of bold deals, AECOM's Michael Burke is heading out
Friday, December 13, 2019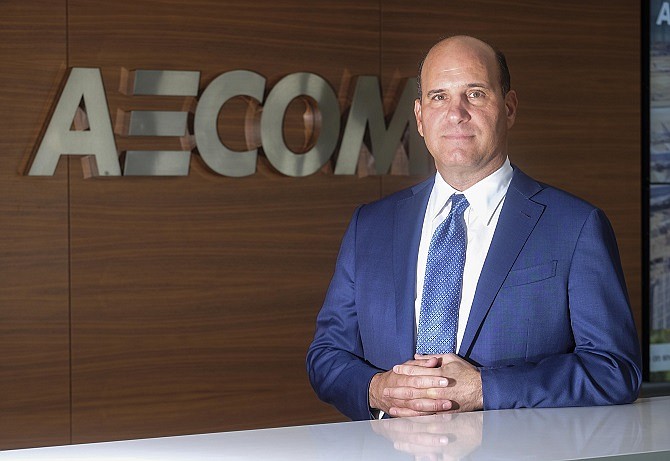 Michael Burke, chief executive and board chair of engineering and design giant AECOM, undertook a series of bold moves in 2019 aimed at boosting margins and shareholder value.
But his final move was his most unexpected: In November, Burke announced that he would soon step down after 13 years with the Century City-based firm.
It was a sudden turn of events for Burke, who spent the first four years of his tenure as chief executive making a series of acquisitions to transform the company into a global infrastructure behemoth with $20 billion in annual revenue.
But by the end of 2018, AECOM's stock price had languished, and investors began clamoring for better margins.
So, early in 2019, Burke withdrew the company from construction projects where it would bear significant financial risk, either through guaranteed maximum price contracts or through using its own construction workers. Then AECOM in July announced its intention to spin off in 2020 its lucrative government contracting and management services business, which generated nearly $4 billion in revenue in 2018.
But that wasn't enough to satisfy activist investors, including New York hedge fund Starboard Value. They pushed for a sale of that government contracting unit, which AECOM eventually sold for $2.4 billion to New York private equity firms American Securities and Lindsay Goldberg.
That move accelerated AECOM's plan to reduce debt and repurchase stock. It also turned AECOM into a much smaller company as the unit accounted for roughly 18% of total billings and 29% of the company's 89,000 employees worldwide.
The restructuring moves had their intended effect, sending AECOM's share price up 50% on the year, closing in mid-November at $43 per share.
In late November, AECOM and Starboard agreed to swap out members of AECOM's board and separate the roles of chief executive and board chair.
Simultaneously, Burke informed the board he would be stepping down as chief executive as soon as a successor was named.
Keep Reading: 2019 Year in Review Special Report
For reprint and licensing requests for this article, CLICK HERE.