Moving the Chains
Infrastructure: The Rams' and Chargers' new home is on track for 2020 opening
Friday, December 13, 2019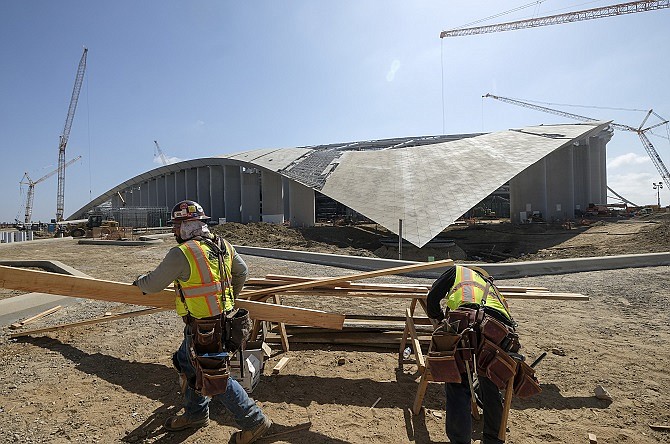 The $5 billion stadium and entertainment complex in Inglewood that will house the Los Angeles Rams and the Los Angeles Chargers achieved several key milestones in 2019 on the way to its scheduled opening next summer.
The project, known as the Los Angeles Stadium and Entertainment District at Hollywood Park, is being developed on 298 acres in Inglewood by Rams owner Stan Kroenke.
Construction work on the outer structure of the 70,000-seat stadium was completed in June. By September, construction contractors, led by Century City-based AECOM's Hunt Construction and New York-based Turner Construction Co., had started building key features such as a giant scoreboard.
The stadium will be the most expensive and, at 3.1 million square feet, the largest in the National Football League.
Construction also proceeded on the rest of the entertainment complex, which will include a new headquarters for NFL Media, a 6,000-seat performing arts theater, a 300-room hotel, 2,500 residences, and 1.5 million square feet of retail and office space.
The Rams announced in September that the stadium would open on July 25, 2020, with a concert by Taylor Swift. Opening home games for both the Rams and Chargers would be played six weeks later.
The stadium is scheduled to host the NFL's Super Bowl LVI in February 2022, the College Football National Championship game in January 2023, and the opening and closing ceremonies of the 2028 Summer Olympic Games.
Meanwhile, the Rams secured two naming rights deals for the stadium complex. Social Finance Inc., a San Francisco-based online finance company that does business as SoFi, obtained the stadium naming rights; according to Forbes, the 20-year deal for the name SoFi Stadium is worth $400 million.
And American Airlines Group Inc. of Fort Worth, Texas, won the right to put its name on a 2.5-acre plaza immediately outside the stadium. Terms of that deal were not disclosed.
Keep Reading: 2019 Year in Review Special Report
For reprint and licensing requests for this article, CLICK HERE.