LAX Projects Take Wing
Infrastructure: Work begins on airport's $5.5 billion overhaul of ground access routes
Friday, December 13, 2019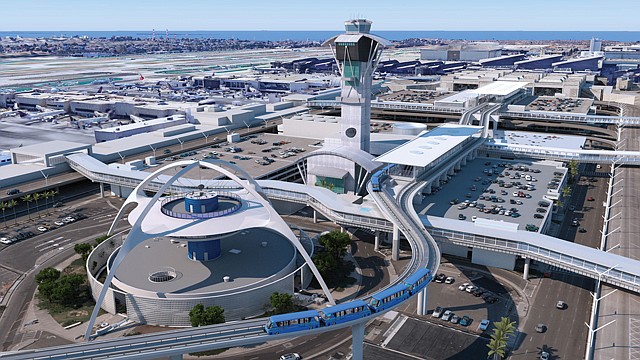 In 2019, after years of planning on the $5.5 billion program to improve access to Los Angeles International Airport, it was time for the shovels.
Ground was broken on the two biggest components of the airport's ground access plan — in March on a $2 billion people mover and in September on a $1 billion consolidated car rental facility. Other components include new roadways, an intermodal transportation center and a new parking structure.
A consortium of seven prime contractors is now laying the foundations for the people mover route, a 2-mile rail line connecting the terminals to a rail station and a consolidated rental car facility.
Irving, Texas-based Fluor Corp. and Broomfield, Colo.-based Flatiron Construction Corp. are the main construction contractors, while Berlin-based Bombardier Transportation will supply the rail cars. The total contract cost is $4.9 billion, which includes the $2 billion for construction and an additional $2.9 billion operation and maintenance of the people mover after it opens, which is slated for 2023.
Early work is also underway on the consolidated car rental facility under a $2 billion contract to build, operate and maintain the facility 2 miles east of the central terminal area near the 405 freeway. Under the contract, $1 billion is for construction costs, and the other $1 billion is for operating and maintaining the facility after it opens.
The facility will consolidate operations of more than a dozen rental car companies that are now scattered throughout Westchester, El Segundo and other communities near the airport. PCL Construction Services Inc. of Denver is the general contractor and downtown engineering firm AC Martin Partners is the major local company in the consortium.
Turning to the airport itself, PCL and New York-based Turner Construction Co. are the general contractors nearing completion on the $1.6 billion northern portion of a new terminal known as the Midfield Satellite Concourse on the tarmac behind the Tom Bradley International Terminal; it is scheduled for completion next year and will add 12 boarding gates to LAX.
In August, the Board of Airport Commissioners awarded a design contract to Melbourne, Australia-based architectural firm Woods Bagot to design the southern half of the Midfield Satellite Concourse.
And in April, airport officials unveiled preliminary design plans for two new terminal additions: one an extension of Terminal 1, operated by Dallas-based Southwest Airlines Co., and the other an entirely new terminal east of Sepulveda Boulevard on the south side of the airport.
Keep Reading: 2019 Year in Review Special Report
For reprint and licensing requests for this article, CLICK HERE.