Sky Is the Limit for Studio One Eleven
Architecture: Firm's designs reshaping Long Beach
Friday, December 6, 2019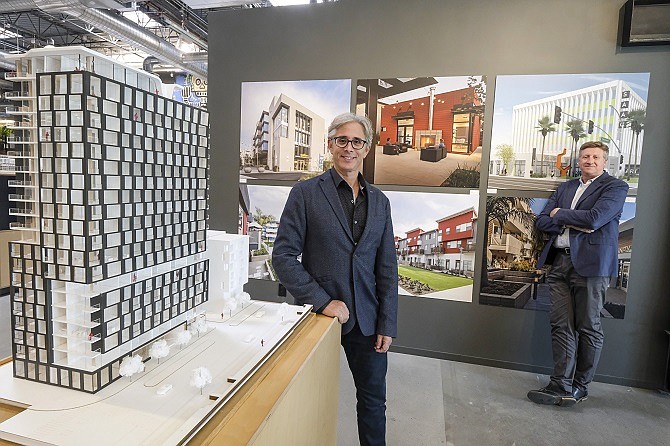 Things are looking up for Studio One Eleven — way up.
The Long Beach-based architecture firm is working on one of its most ambitious projects to date, one that will feature a 40-story, 426-foot-high tower.
It will be the tallest building in Long Beach and will serve as one of the anchors for Westside Gateway, a 1.3-million-square-foot development from Trammell Crow Residential Co.
Built in the 1960s and 1970s as a "megablock" project on land once owned by the Port of Long Beach, the original property sits at 600 W. Broadway on the edge of downtown Long Beach. The new project will feature 746 residential units, a market across six buildings and a nine-story parking structure.
Alan Pullman, founding principal at Studio One Eleven, said his firm was involved in the project early on. Pullman said the design firm's renovation plan will reintroduce streets to make the area more walkable and "complete the block."
While Studio One Eleven has made its mark with projects across Los Angeles, it has been especially busy in its hometown of Long Beach.
Even the company's headquarters, located at a former Nordstrom Rack building at 245 E. 3rd St., are distinctive.
Studio One Eleven filled in a former loading dock at the space with trees and a patio. It has conference rooms and murals from local artists scattered throughout its open-concept floor plan. The firm gave up the corners of the building to restaurants.
"It helps draw people in and actuates the area," said Senior Principal and Design Director Michael Bohn.
Studio One Eleven, which was founded nearly 20 years ago, focuses "on urban revitalization transformation projects," Pullman said.
The firm often works with local agencies such as the City of Long Beach and L.A. Metro, where it serves as a consultant for the Little Tokyo Regional Connector site.
Street smart
Pullman said Studio One Eleven wants to transform streets, using the way they're revitalizing Long Beach as an outline of sorts.
"We are able to try things here because of our trust with partners," Bohn said.
Pullman added that the architecture firm is more interested in creating districts than in individual projects.
Studio One Eleven has worked on a multitude of projects in Long Beach including Ocean and Cherry, a boutique hotel with 40 rooms and 56 flats and townhouses; Collage, an affordable housing project developed by Jamboree Housing Corp.; the North Long Beach Homeless Shelter and Long Beach Airport's concession area.
Prev Next
For reprint and licensing requests for this article, CLICK HERE.