OnRobot's Human-Like Grippers Open Up Big Possibilities
OnRobot looks to grab opportunities on Earth — and beyond
Friday, August 30, 2019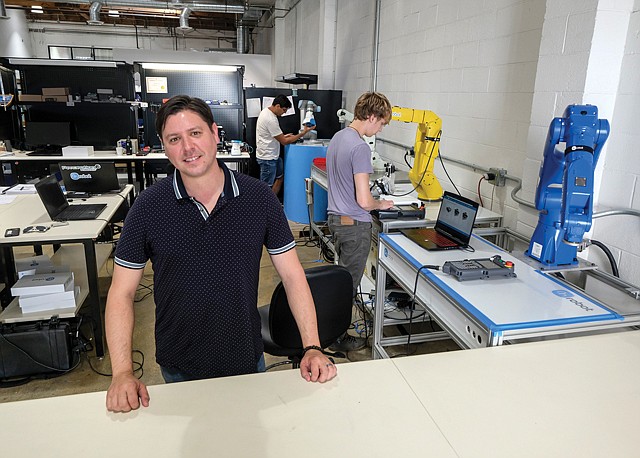 Nicholas Wettels wants everybody to get a grip.
A veteran mechanical engineer, Wettels oversees the recently opened 6,000-square-foot Culver City office of Danish robotics firm OnRobot Inc., which is working to develop grippers for industrial robots that mimic biological capabilities. OnRobot makes end-of-arm technologies including grippers, sensors, cameras and more.
"We're your one-stop shop for all things robotics," said Wettels, who serves as the company's director of research and development.
The applications for that technology are potentially out of this world. In fact, NASA is already helping to fund some of the company's research although the organization is taking a long-term view toward the possible deployment of any tools.
In the meantime, there are plenty of uses closer to home that are keeping OnRobot occupied.
According to a June 2019 report by the Association for Advancing Automation, the collaborative robotics market brought in $600 million in global revenue last year and is expected to reach global revenues of $7.5 billion by 2027.
"Gripping is the holy grail of robotics," said Robert Doyle, vice president of the Ann Arbor-based A3, which includes OnRobot as a member. "There's been a lot of interest and focus in general on what they call end-of-arm tooling," Doyle said
He added, "Companies like OnRobot are helping the industry grow overall because the technologies they're offering allow robots to go into industries they've never gone into before."
Lending a hand
Wettels joined OnRobot when his previous venture, Perception Robotics, was acquired by the Danish company in June 2018. Perception had gained notice for its innovative and flexible "gecko gripper" design.
Wettels' initial interest in robotics started after serving as a Navy chaplain from 2000-2006 working with injured seamen. He began to envision a version of modern prosthesis to rival the existing cumbersome designs.
"I thought, this is messed up; where is the Luke Skywalker arm?" Wettels said.
He created downtown-based SynTouch in 2008 to develop sophisticated prosthetic hands. He served as the company's chief operating officer for four years before going to work for NASA's Jet Propulsion Laboratories at Caltech where he helped design grippers to assist with robotic maintenance for the International Space Station.
While still with JPL, Wettels launched Perception Robotics in 2012 as part of the downtown-based Los Angeles Cleantech Incubator. In 2014, Perception secured a $1.1 million grant from the National Science Foundation, and Wettels left JPL.
"What we were trying to do is take advantage of soft robotics and regular rigid robotics" to create a flexible model, he said.
Robotic end-of-arm tools is still a niche industry though demand is high, noted Remy Glaisner, research director at IDC Reasearch Inc. "It's not simple right now for any provider of grippers to actually fully respond to market demand," Glaisner said.
Lift off!
In addition to support from its parent company, Wettels said OnRobot receives funding from NASA and JPL, a total of $900,000 to date.
Eventually, Wettels said he wants to see the technology journey to space, helping autonomous robot crews maintain satellites and act as janitors for space debris.
But since commercial spaceflight "has a long way to go," Wettels and OnRobot still prioritize building up business on the ground.
Automotive and medical equipment manufacturers are a large part of OnRobot's current client base, followed closely by logistics companies that need to quickly pick and pack items. For now, this remains the bulk of its business.
"NASA has a lot of interest and investment here, which is a good sign, but in general, I would say robots are hard," Doyle put simply. "I think we're pretty far away from using this in space; there's a lot of interest and excitement, but (also) a lot of challenges to make these technologies work."
Wettels agreed. "You can't really joystick around up there," he said. "If you're going to try to quarterback something from Mars or even the moon, you have to issue high-level commands and let the robot figure out how to do the task."
Most manufacturers are slow to warm to the idea of employing autonomous mobile robots. A recent IDC study revealed nearly 46% of technology user organizations across the globe had no plans to integrate autonomous robots into their workplaces.
Expanding grip
The Association for Advancing Automation reports that as of 2017, the United States ranked sixth in global robot density, employing roughly 200 robots per 10,000 human manufacturing workers. And that's expected to grow.
Besides automotive and shipping businesses, the medical field is increasingly adopting robotics for surgeries and intensive procedures, said Glaisner, which means they will also need a steady supply of grippers.
OnRobot is well-positioned to gain more share of the industrial and collaborative robotics market as it expands, analysts note.
According to Wettels, on average, the facility in Culver City makes two gecko gripper hands for robots per day.
Robotics firms like OnRobot that make multifunctional technology are paving the way for others, said Doyle.
"The technology that OnRobot has introduced has allowed the robotics industry to grow in more nontraditional industries where robotics didn't have as big of a foothold, such as food and beverage and aerospace," Doyle said.
For reprint and licensing requests for this article, CLICK HERE.