Bow West Wraps West Adams Redevelopment
Wednesday, August 28, 2019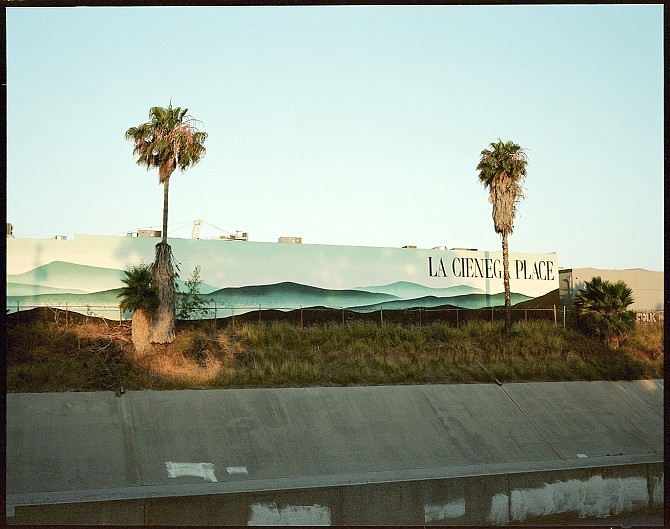 The latest addition to the booming Westside is the first completed project from Bow West Capital.
The downtown-based developer recently completed La Cienega Place, a 29,000-square-foot creative office space conversion in West Adams, just outside of Culver City.
The former industrial building, at 3309-3323 La Cienega Place, now houses seven office suites ranging in size from 3,000 to 6,000 square feet. All have patios and glass roll-up doors. The site also has a 300-foot-long, 30-foot-high mural by Robert Harkness.
Bow West Capital acquired the property in 2017. At the time, it was a 17,000-square-foot warehouse.
"We felt that the building wasn't the highest and best use," said Bow West Capital founder and President Sean Beddoe.
Architect Thomas Rule redesigned the space. GHBW was the contractor for the project.
The building's tenants have not yet been announced.
Bow West Capital's other major undertaking is a 60,000-square-foot adaptive reuse project at 718 S. Hill St. The property, which will exclusively house tenants in the cannabis industry, will have creative office space, a restaurant and an art gallery.
Bow West Capital isn't the only group betting big on industrial-to-creative office conversions. Brokers say developers and companies, particularly in the startup and creative industries, are increasingly seeking these kinds of properties, which are often less expensive than traditional office spaces and can command high rents once converted. These spaces typically have large floor plans and high ceilings — design trends popular among many companies now.
Hackman Capital Partners, for example, is converting a former Northrop Grumman Corp. manufacturing and warehouse complex in El Segundo into a creative office campus.
Super League Gaming Inc. operates out of a warehouse in Santa Monica; Awesome Office Inc., better known as SnackNation, has offices at the Hayden Tract, a former warehouse area in Culver City that has been mostly upgraded into creative office space; and Google converted the Spruce Goose hangar in Playa Vista into creative office space.
La Cienega Place is near the Cumulus, a huge development in West Adams with more than 1,200 apartments and 100,000 square feet of retail space.
Luxury consignment company RealReal Inc., sneaker seller 1661 Inc. and restaurant chain Sweetgreen Inc. have all recently signed leases for commercial space in West Adams and the surrounding area.
The area is benefitting from its proximity to downtown, Culver City and the Expo Line, as well as the upcoming Crenshaw Line.
"We saw what was happening along the Metro Line, in Culver City along the Hayden Tract and with the Cumulus, and we thought it was a great time," Beddoe said of the decision to develop in the area.
He said the company's next projects will be remarkably different, however.
"We're going to be shifting focus a bit and doing some ground-up housing and putting our creative spin on that market," he said.
Commercial real estate reporter Hannah Madans can be reached at hmadans@labusinessjournal.com. Follow her on Twitter @HannahMadans.
For reprint and licensing requests for this article, CLICK HERE.