CAN DO SPIRITS
Premixed cocktails, hard seltzers gaining on beer's dominance
Friday, August 23, 2019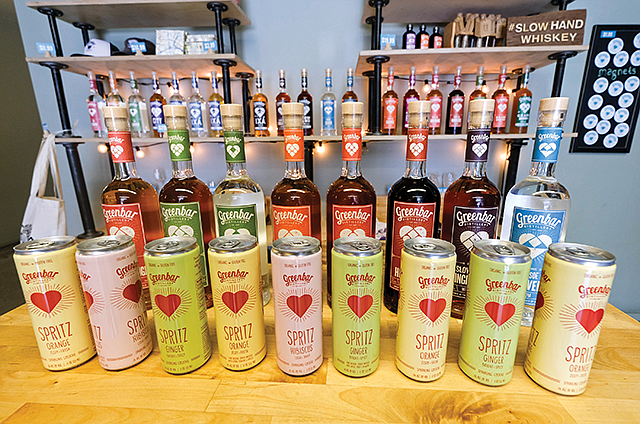 Canned alcoholic spritzers and hard seltzers are having a moment.
The category's breakout hit, 100-calorie White Claw, has spawned a litany of memes on social media, sold out at liquor stores, become a staple of pool and beach parties, and has been crowned by some as the drink of summer for 2019.
"It's insane, it's just everywhere," said Alix Peabody, founder and chief executive of Alixir Co., who in 2017 launched Drink Bev, her own line of canned rosé wine "for the ladies and dudes that are doing it right." Albertsons Cos. Inc., Vons Cos. Inc. and Pavilions stores picked up Peabody's Venice-based brand this year.
"So many more people are drinking more and more out of a can — it's building a market for ready-to-drink products,"
Peabody said.
Research firm Nielsen Co. estimated in April that sales of ready-to-drink malt-based cocktails like White Claw rose 574% year over year while hard seltzers grew 193%, and canned wine like Bev and other spirits saw sales jump between 40% and 77%.
The often lower-calorie concoctions appeal to younger, health-conscious drinkers — and some beverage industry analysts believe consumers see a "wellness" factor to the drinks.
The novelty makes them ripe for Instagram where pictures of dogs and White Claw have proliferated. Most of the seltzers, which are malt-based like beer, are about 4%-6% alcohol. The canned wines and other liquors can vary in potency. The ready-carry drinks are marketed as ideal for summer picnics or concerts.
Smaller labels like Peabody's Drink Bev and downtown's Greenbar Distillery are taking advantage of the trend.
Married couple Litty Mathew and Melkon Khosrovian, founders of Greenbar, tried for years to develop a cocktail culture around their hand-crafted spirits, offering regular mixology classes at the distillery's headquarters. But to their surprise, few people actually purchased bottles of their organic, flavored liquors after taking a class.
"People would have fun. But they like to drink cocktails much more than they like to make them," said Mathew.
Mathew and Khosrovian were intrigued by the trend of canned cocktails and decided to jump into the market, launching a line of three alcoholic "spritzes" they describe as "bubbly and slightly sweet" — an offshoot of the Italian spritz.
In less than three months, sales of the distillery's canned beverages have already surpassed its liquor sales, they said. The spritzes retail for $14.99 for a four pack at Whole Foods Market Inc. locations.
"This damn thing is not a fad," Khosrovian said. "We are going to murder beer."
Mathew said it's clear to her that customers like the convenience of the canned beverage. "It's why food kits became a thing," she said. "It's why grocery stores are turning more of their shelves into prepackaged food. It's because of how many obligations we have. It's not a simple life."
As beer sales decline, local makers of the seltzers, canned wine and cocktails are confident they can turn customers away from beer and toward their products.
Beer alternative
"I don't like beer, but I like the way (canned drinks) taste," said Danita Palmer, a 31-year-old concierge at a luxury apartment complex in Hollywood. She bought a malt-based agua fresca from Los Angeles-based Golden Road Brewing Co. for a trip to the beach. "We had a little cooler. These are easier and smaller. And the fact they are 110 calories is a bonus."
Grocery and liquor store shelf space once reserved for beer has been replaced in many locations with rows of canned alcoholic drinks like mango-flavored seltzer or ready-made Moscow mules. The drinks are often packaged in slimmer cans, many with daintier designs than beer, signaling the shifting taste for alcohol.
"Beer used to target young folks of legal drinking age until the age of 25," Steve Cobrin, a consumer products consultant with AlixPartners. "You tried to get them earlier and hold on to them."
But young adults today, who pay $5 for coffee and juice, don't want high-calorie beer, he said. "Tastes are changing."
Hard seltzers have already claimed 5% of the beer market, and over the Fourth of July holiday, White Claw outsold Budweiser and Miller Lite, according to analysts at Bank of America Merill Lynch.
Anheuser-Busch InBev and other goliath beer-makers are trying to catch up with products like the spiked agua fresca produced by Golden Road, which Anheuser-Busch acquired in 2015.
Boston Beer Co., producer of Samuel Adams, has also launched its own seltzer line. The company boasted about the drink's success as it laid out plans to increase production capacity to compete with Canadian-based Mark Anthony Group of Cos., which owns the White Claw brand.
For reprint and licensing requests for this article, CLICK HERE.