CAN DO SPIRITS
Premixed cocktails, hard seltzers gaining on beer's dominance
Friday, August 23, 2019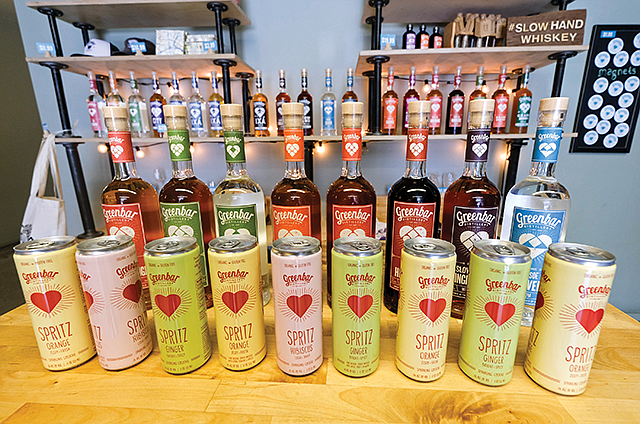 Canned alcoholic spritzers and hard seltzers are having a moment.
The category's breakout hit, 100-calorie White Claw, has spawned a litany of memes on social media, sold out at liquor stores, become a staple of pool and beach parties, and has been crowned by some as the drink of summer for 2019.
"It's insane, it's just everywhere," said Alix Peabody, founder and chief executive of Alixir Co., who in 2017 launched Drink Bev, her own line of canned rosé wine "for the ladies and dudes that are doing it right." Albertsons Cos. Inc., Vons Cos. Inc. and Pavilions stores picked up Peabody's Venice-based brand this year.
"So many more people are drinking more and more out of a can — it's building a market for ready-to-drink products,"
Peabody said.
Research firm Nielsen Co. estimated in April that sales of ready-to-drink malt-based cocktails like White Claw rose 574% year over year while hard seltzers grew 193%, and canned wine like Bev and other spirits saw sales jump between 40% and 77%.
The often lower-calorie concoctions appeal to younger, health-conscious drinkers — and some beverage industry analysts believe consumers see a "wellness" factor to the drinks.
The novelty makes them ripe for Instagram where pictures of dogs and White Claw have proliferated. Most of the seltzers, which are malt-based like beer, are about 4%-6% alcohol. The canned wines and other liquors can vary in potency. The ready-carry drinks are marketed as ideal for summer picnics or concerts.
Smaller labels like Peabody's Drink Bev and downtown's Greenbar Distillery are taking advantage of the trend.
Married couple Litty Mathew and Melkon Khosrovian, founders of Greenbar, tried for years to develop a cocktail culture around their hand-crafted spirits, offering regular mixology classes at the distillery's headquarters. But to their surprise, few people actually purchased bottles of their organic, flavored liquors after taking a class.
"People would have fun. But they like to drink cocktails much more than they like to make them," said Mathew.
Mathew and Khosrovian were intrigued by the trend of canned cocktails and decided to jump into the market, launching a line of three alcoholic "spritzes" they describe as "bubbly and slightly sweet" — an offshoot of the Italian spritz.
In less than three months, sales of the distillery's canned beverages have already surpassed its liquor sales, they said. The spritzes retail for $14.99 for a four pack at Whole Foods Market Inc. locations.
Prev Next
For reprint and licensing requests for this article, CLICK HERE.