Aerospace Property Soars
REAL ESTATE: Fresh uses for older manufacturing sites
Friday, August 23, 2019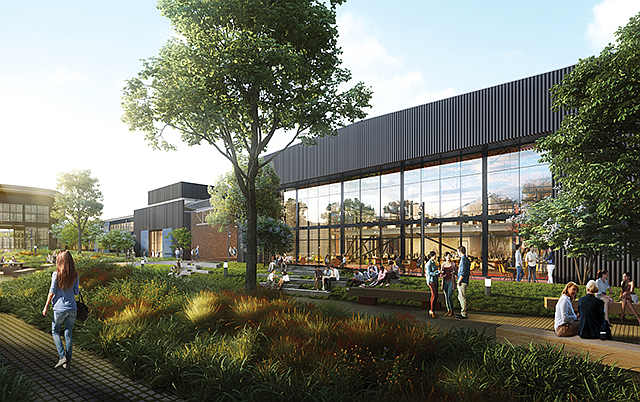 Properties occupied by top aerospace manufacturers are selling off in L.A. as shifting global supply chains and the march toward automation has reduced the companies' need for space.
It's also an excellent time to sell. Raytheon Corp., Northrop Grumman Corp., and Boeing Co. facilities from El Segundo to Long Beach have fetched tens of millions if not hundreds of millions of dollars with developers investing millions more to convert the industrial sites into hip office space targeted at tech startups and creative companies.
This year, Boeing sold a 90-acre former C-17 manufacturing plant in Long Beach for more than $200 million, according to sources familiar with the matter. Boeing is also moving out of an El Segundo office building it had been leasing after the building sold this summer for $51 million.
Northrop Grumman is leaving the 101 Continental Blvd. building — emblazoned with the company's name — along the 105 freeway in El Segundo. TA Realty purchased the building from Vereit Inc. for $138.5 million after Northrop announced its planned departure. Northrop in 2016 also sold a manufacturing and warehouse complex in El Segundo to Hackman Capital Partners, which is now overhauling the site.
And Raytheon has listed 30 acres at its El Segundo campus — mostly unused parking lots — for sale. The land is entitled for up to 560,000 square feet of commercial buildings, according to CoStar Group Inc. Raytheon will still occupy other parts of the property.
"Such sales could be the result of a combination of the market for commercial real estate in Southern California being strong, and the aerospace companies' long shift away from Southern California as a large manufacturing base," Paul Bingham, a transportation economist with IHS Markit Ltd., said in an email.
For the past 30 years, Bingham said, the aerospace industry has been consolidating and shifting manufacturing to lower-cost regions of the world. And with the increased use of automation in both manufacturing and warehousing, aerospace companies today tend to need less space to do the same amount of work.
But even as the local aerospace sector downsizes its physical footprint, small and large players in the industry are adding jobs.
In recent years, the sector has bounced back slightly in L.A. Employment has been rising slowly in the last decade or so — though overall employment in the sector remains a fraction of what it was in the 1980s. According to the California Employment Development Department, there were 37,600 jobs in aerospace products and parts manufacturing in L.A. County in June, up 5.3% from a year earlier.
Prev Next
For reprint and licensing requests for this article, CLICK HERE.