Aerospace Property Soars
REAL ESTATE: Fresh uses for older manufacturing sites
Friday, August 23, 2019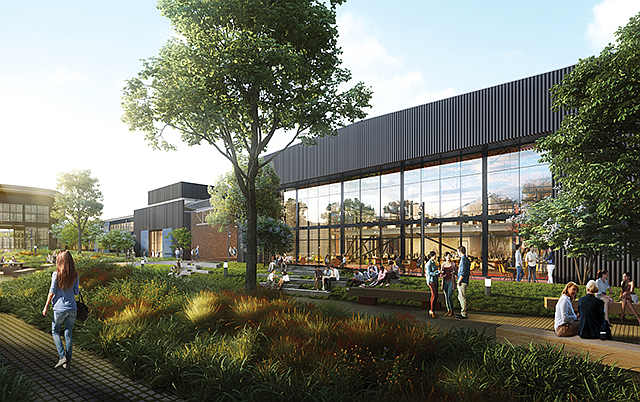 Properties occupied by top aerospace manufacturers are selling off in L.A. as shifting global supply chains and the march toward automation has reduced the companies' need for space.
It's also an excellent time to sell. Raytheon Corp., Northrop Grumman Corp., and Boeing Co. facilities from El Segundo to Long Beach have fetched tens of millions if not hundreds of millions of dollars with developers investing millions more to convert the industrial sites into hip office space targeted at tech startups and creative companies.
This year, Boeing sold a 90-acre former C-17 manufacturing plant in Long Beach for more than $200 million, according to sources familiar with the matter. Boeing is also moving out of an El Segundo office building it had been leasing after the building sold this summer for $51 million.
Northrop Grumman is leaving the 101 Continental Blvd. building — emblazoned with the company's name — along the 105 freeway in El Segundo. TA Realty purchased the building from Vereit Inc. for $138.5 million after Northrop announced its planned departure. Northrop in 2016 also sold a manufacturing and warehouse complex in El Segundo to Hackman Capital Partners, which is now overhauling the site.
And Raytheon has listed 30 acres at its El Segundo campus — mostly unused parking lots — for sale. The land is entitled for up to 560,000 square feet of commercial buildings, according to CoStar Group Inc. Raytheon will still occupy other parts of the property.
"Such sales could be the result of a combination of the market for commercial real estate in Southern California being strong, and the aerospace companies' long shift away from Southern California as a large manufacturing base," Paul Bingham, a transportation economist with IHS Markit Ltd., said in an email.
For the past 30 years, Bingham said, the aerospace industry has been consolidating and shifting manufacturing to lower-cost regions of the world. And with the increased use of automation in both manufacturing and warehousing, aerospace companies today tend to need less space to do the same amount of work.
But even as the local aerospace sector downsizes its physical footprint, small and large players in the industry are adding jobs.
In recent years, the sector has bounced back slightly in L.A. Employment has been rising slowly in the last decade or so — though overall employment in the sector remains a fraction of what it was in the 1980s. According to the California Employment Development Department, there were 37,600 jobs in aerospace products and parts manufacturing in L.A. County in June, up 5.3% from a year earlier.
Northrop Grumman spokesman Vic Beck said in a statement that the company "regularly assesses its facility needs to accommodate changing business requirements."
Raytheon and Boeing did not respond to requests for comment.
Getting creative with space
Brokers and developers say the size and industrial structure of former aerospace properties make them prime real estate for office conversions.
"There's a lot of character in that uniqueness," said John Wiedner, executive vice president of development and construction with Hackman Capital, which is converting the former Northrop Grumman facility it owns at 888 N. Douglas St.

The project pays homage to the building's aerospace heritage, Wiedner said. "It's a rare find in Southern California to have a building of that scale with that character."
Andrew Harper, a managing director at Jones Lang LaSalle Inc., said the aerospace facilities generally have high ceilings and lots of parking, which makes them well suited for low-rise creative offices.
Such was the case with Spruce Goose, a historic airplane hangar in Playa Vista that Google has converted into a low-rise, open floor plan creative office space.
"There's typically a lot of land associated with these properties," said Newmark Knight Frank's Kevin Shannon, one of the brokers involved with the $51 million Boeing campus sale and the 101 Continental Blvd. deal.
"They have good bones to make a creative office campus, " Shannon said.
The creative companies moving in bring a unique set of requests, said Sam Lee, director for planning and building safety for the city of El Segundo. "We're seeing more modern restaurants and amenities," he said.
Overall, the conversions are bringing a wider range of businesses to places like El Segundo. "We have a long history of aerospace in El Segundo," said Deputy City Manager Barbara Voss. But she added that the industry diversification happening now is "critical."
"It's really important to any economy to have representation of many companies," Voss said.
Hot markets
El Segundo's history as an aerospace capital means it's also a central hub for today's real estate deals and conversions of those properties.
"The majority of the activity we have seen in L.A. has been in the El Segundo market," Harper said, adding that the city is becoming a prominent office market — and demand for that space is rising from tenants around the region.
That's led to higher lease rates. During the second quarter, asking rates for Class A office space in El Segundo was $4.34 a square foot, up 30 cents quarter over quarter and 45 cents year over year, according to JLL.
Bob Healey, a senior vice president at CBRE Group Inc. said he sees the Raytheon property currently on the market as a good opportunity.
"It's the first time in several years that large parcels of unimproved land have been offered on the market, which gives companies or investors the ability to design state-of-the-art buildings for their uses," Healey said.
Farther south, Long Beach is gearing up for changes with aerospace giant Boeing selling off large parcels of land near the airport.
"We see the area around the airport as this ring of fire that is currently developing," said Sergio Ramirez, the deputy director of economic and property development for the city's Economic Development Department.
The city has come up with site plans and changed zoning for the area, all in anticipation that the recently sold Boeing site might soon resemble Long Beach's Douglas Park — a 283-acre former aviation field that now houses 4.1 million square feet of industrial, office, retail and hospitality buildings.
Ramirez said the biggest priority with the redevelopment is jobs.
"We lost a lot of good, high paying jobs when the aerospace industry faltered here and Boeing started to contract. We want to replace those with new jobs in the new economy."
For reprint and licensing requests for this article, CLICK HERE.