Southwest Airlines Cuts LAX Flights to Mexico, Omaha, Pittsburgh
Tuesday, August 20, 2019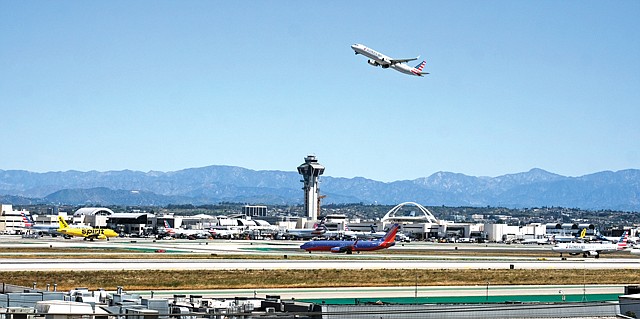 Southwest Airlines Co. has announced that it is cutting four flights at LAX starting in January. The nonstop flights serve Cancun and Puerto Vallarta in Mexico, as well as Omaha, Neb., and Pittsburgh.
The cutbacks are part of a nationwide flight restructuring announced Aug. 15 to target the highest growth markets, especially Hawaii. Twenty flights in all are to be eliminated. The airline is adding four flights in Hawaii, also starting in January.
"We are making these changes to allow us to further invest in routes where the demand warrants either new or additional service," Dan Landson, spokesman for Southwest Airlines, said in an email confirming the flight cutbacks. "As with all our routes, we look at a variety of data including overall performance to determine if the route is performing to our expectations."
Landson said most of the routes served by the 20 nonstop flights will continue to be served through one-stop flights after Jan. 6.
As of January of this year, Landson said Southwest had 129 daily departures from Los Angeles International Airport. With these four announced nonstop flight cutbacks and other previous changes, Southwest will have 121 daily departures from LAX after next Jan. 6.
Southwest Airlines is under strain because of its heavy reliance on the now-grounded Boeing 737-MAX planes. When the grounding order came, the airline had 34 MAX planes in service, the most of any domestic airline. With the return to service for those planes uncertain, Southwest has been forced to cancel dozens of flights each day and scramble to make sure planes are available for scheduled routes. The grounding has left the airline with less flexibility to add routes without subtracting routes elsewhere.
Last month, Southwest announced it would eliminate service entirely at Newark International Airport in New Jersey effective in November due in large part to the 737-MAX grounding.
Education, energy, engineering/construction and infrastructure reporter Howard Fine can be reached at hfine@labusinessjournal.com. Follow him on Twitter @howardafine.
For reprint and licensing requests for this article, CLICK HERE.