Nuclear Waste Plagues Edison
ENERGY: Utility stymied in bid to dispose of spent fuel
Friday, August 16, 2019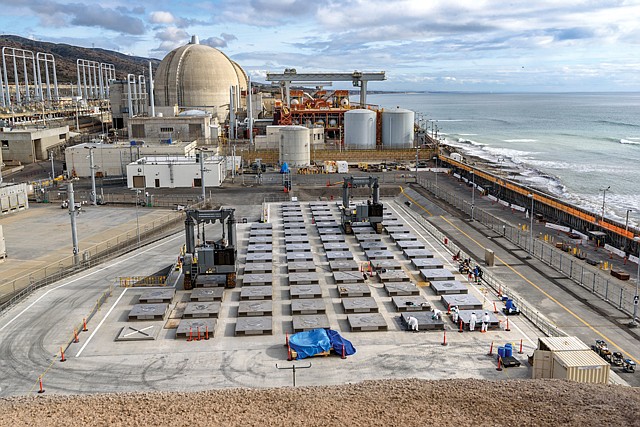 Spent nuclear fuel started accumulating at San Onofre when it opened in 1967. The prevailing practice at the time was to store spent fuel rods on site, which continues to this day.
It wasn't until the 1980s, in the aftermath of the Three Mile Island nuclear incident, that attention was focused on the spent rods accumulating at nuclear plants across the nation. In 1987, Congress designated the nation's first underground nuclear waste storage facility for Yucca Mountain, about 80 miles northwest of Las Vegas.
But the plan met with opposition from local Native American tribes and residents concerned about possible nuclear contamination of groundwater or accidental radiation releases.
The licensing process stalled for decades. Harry Reid, former senior senator from Nevada and Senate majority leader, was an implacable opponent, killing repeated efforts to license Yucca Mountain for nuclear waste disposal.
Two private sector proposals emerged in 2016 and 2017 for interim nuclear waste storage sites along the New Mexico-Texas border: one in Lea County, N.M., and the other in Andrews County, Texas. According to the U.S. Nuclear Regulatory Commission website, both sites are "under review."
Shuttered plant
In early 2012, Southern California Edison was forced to shutter San Onofre temporarily after cracks were discovered in replacement steam generators supplied by Mitsubishi Heavy Industries Ltd., a subsidiary of Tokyo-based Mitsubishi Corp. (Edison ultimately was awarded a $125 million arbitration settlement from Mitsubishi for supplying the faulty generators.) The temporary shutdown became permanent the following year.
With no licensed facility to take the spent fuel, Southern California Edison won approval from the California Coastal Commission to store the nuclear waste in a facility near a seawall at the San Onofre facility.
The utility also decided to remove the fuel rods from their encasement in water and put them in dry canisters. That process has continued for several years, with an interruption of nine months last fall after a canister got wedged as it was being lowered.
But the seaside facility was opposed by local residents, and Citizens Oversight, an anti-nuclear group; they wanted the nuclear waste removed from the site altogether. They sued, and in 2017 reached agreement with Southern California Edison in which the utility would take steps to relocate the waste.
Reacting to Southern California Edison's decision to hire North Wind, Ray Lutz, a retired engineer who founded Citizens Oversight, said the move doesn't go far enough.
"SCE has not made sufficient progress," Lutz said by email. "They provide quarterly reports of their progress to us. In every report, they say the same thing. … The last line is 'Updates will be provided as progress is made on the Strategic Plan.' No progress has apparently been made."
For reprint and licensing requests for this article, CLICK HERE.