Colony Capital Plots Revival
FINANCE: Investment firm will sell assets, shift strategy
Friday, August 16, 2019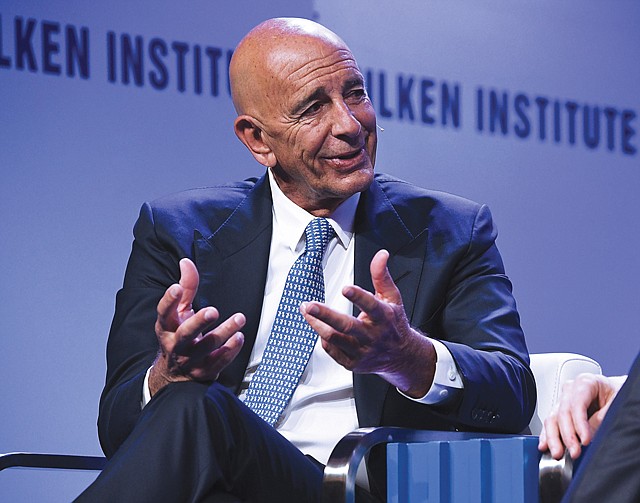 Colony Capital Inc. is selling assets and overhauling its investment strategy in an effort to return to profitability after years of losses.
The downtown-based investment firm has reported more than $1.2 billion in combined losses since purchasing NorthStar Asset Management Group and real estate investment trust NorthStar Realty Finance in early 2017.
Over the two years following that acquisition, Colony slashed dividends by 59% on an annualized basis to 44 cents a share from $1.08. Colony Capital's stock price had dropped 60% since the deal, closing at $4.71 on Aug. 13.
Executive Chairman and Chief Executive Thomas Barrack Jr. ranked No. 55 on the Business Journal's list of Wealthiest Angelenos in 2017, with an estimated net worth of $1.13 billion, but a key portion of his holdings declined in 2018, and Barrack fell off the list last year.
But Barrack, who plans to step down from the chief executive role by 2021, vowed the company is making strides to improve its performance. "We are in a turnaround mode," he told the Business Journal this month.
Colony Capital executives have declined to comment further on the firm's future dispositions or discuss its strategic direction with the Business Journal. According to sources familiar with the company, billions of dollars' worth of assets could be jettisoned from the firm's books in coming months in the initial stage of the turnaround effort.
Jade Rahmani, an analyst with Keefe Bruyette & Woods Inc. in New York, wrote in an Aug. 9 note to investors that Colony needs to pick up the pace of its restructuring efforts.
"At this point, we believe Colony should undertake a strategic shift to accelerate disposition of all non-core assets … and make needed investments in asset management," including the hiring and recruitment of key personnel, Rahmani said.
Some of the turnaround push has been fueled by New York City-based activist investor Blackwells Capital, which became a "significant holder" of Colony Capital shares in 2018.
Blackwells pressured the company to undertake a strategic review of its business and eventually won two seats with the company's nine-member board in February as well as and a mutually agreed upon appointment for a third seat in June.
A Blackwells spokesman declined to comment on the alternative investment firm's strategy.
A selling strategy
In February, Colony Capital announced a strategic review of its business that analysts said was likely to lead to the sale of assets across its four main lines of business — industrial, healthcare, hospitality and "other equity debt" investments that are privately held.
Prev Next
For reprint and licensing requests for this article, CLICK HERE.