Brokers, Investors Post Strong Second Quarter
Demand for industrial, office properties drives profits
Friday, August 9, 2019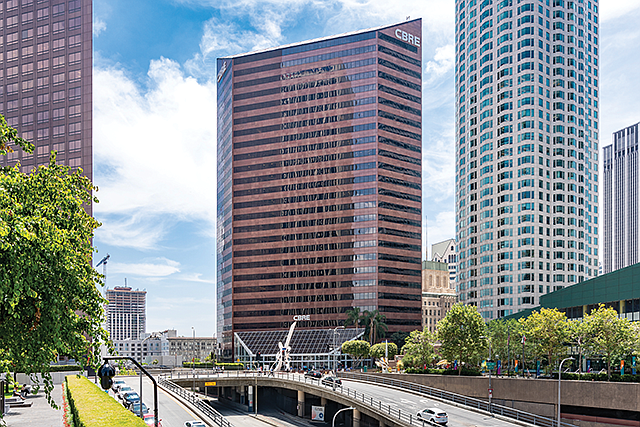 L.A.'s leading real estate brokers, investors and developers posted strong results in the second quarter as demand remained strong across commercial, retail and industrial sectors.
Pasadena-based Alexandria Real Estate Equities Inc. and Sawtelle-based Kilroy Realty Corp., both real-estate investment trusts focused on office properties, reported profit gains of more than 40% year over year after closing major long-term leases with office tenants.
Both companies own properties in San Francisco's popular SoMa district, where Pinterest Inc. recently signed a lease for 488,000 square feet in Alexandria's project at 88 Bluxome St.
Alexandria, which tends to focus on the life science industry using a "cluster campus" model, reported profits of $87.2 million on $394 million in revenue in the second quarter.
Kilroy's profits reached $47.2 million, up 48% from $31.8 million in the second quarter of 2018.
Brentwood-based real estate investment trust Hudson Pacific Properties Inc., which also focuses on office properties and has several projects in development, saw profits decline 35% year over year to $12.8 million in the second quarter. But funds from the company's operations were in line with analyst estimates.
Victor Coleman, Hudson Pacific's chairman and chief executive, said in a statement, "We are on pace for one of our strongest office leasing years ever, signing over 1.5 million square feet year-to-date with nearly 30% cash rent spreads."
The company is one of the region's biggest owners of soundstages for movie and television productions and has nearly 1 million square feet of office projects in the works in L.A., 89% of which are preleased. Hudson Pacific is the developer behind the 13-story Epic development in Hollywood, which has been preleased to Netflix Inc.
It's also working with retail REIT Macerich Co. to develop One Westside — converting the Westside Pavilion into a creative office campus. Google has preleased the center.
Macerich also reported strong earnings in the second quarter with profits rising 56% to $13.9 million from $8.9 million a year ago. In a statement, the company attributed the profit growth to leasing and strong sales among its retail tenants.

Macerich's performance was notable, given the retail sector's shaky performance in recent years. Chief Executive Tom O'Hern said in a statement the company plans to redevelop shuttered former Sears locations at several of its malls.
As retail property investors slowly get back on their feet, industrial owners are seeing skyrocketing profits as the growth of ecommerce drives demand for storage, order fulfillment and delivery space.
Brentwood-based industrial property owner Rexford Industrial Realty Inc. reported profits of $16 million in the second quarter, up more than 100% from the same period a year ago. From April through June, the company acquired 16 industrial properties and sold one.
"We are very pleased with our second quarter results as we continue to drive organic and external growth through our focused strategy within the infill Southern California industrial market," Co-Chief Executives Michael Frankel and Howard Schwimmer said in a statement.
Downtown-based real estate brokerage giant CBRE Group Inc. saw mixed results in the three months ending June 30, with profits ticking down 3% to $223 million with the company in the midst of a reorganization and continued work on several major projects.
The company's leasing arm saw double-digit growth in revenue, said Bob Sulentic, CBRE's president and chief executive.
"The impact of our reorganization, which we announced last year, is driving margin improvement in our advisory services and outsourcing businesses," Sulentic said. "Cost efficiency was one of the key objectives of this change."
For reprint and licensing requests for this article, CLICK HERE.