Space Race
Coworking providers have signed more than 20 leases in LA this year
Friday, August 2, 2019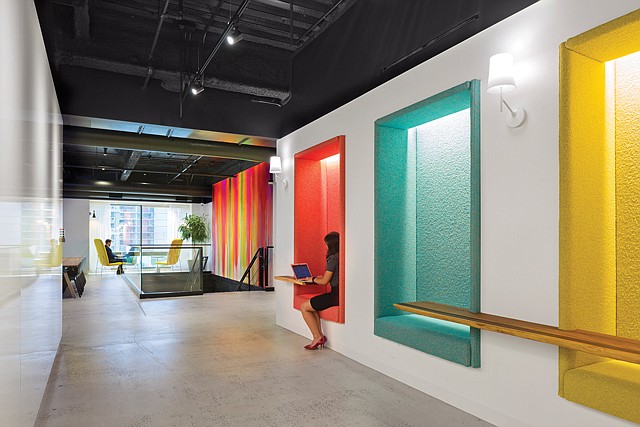 L.A.'s coworking market is booming.
In 2019 alone, more than 20 leases
have been signed by some of the biggest coworking and flexible office space players in the game, according to data from Jones Lang LaSalle Inc.
Coworking giant WeWork Cos. Inc. has signed seven leases since Jan. 1. IWG-owned Spaces signed two leases in January, and New York-based Knotel Inc. — a flexible office space provider — signed a handful of leases this year, according to JLL data.
"L.A. is a massive opportunity for us," said Michael Berretta, vice president of network development at IWG.
The downtown and Westside markets are particularly hot for coworking companies, JLL data shows. Jerome Fried, a managing director at Savills Inc., said it all comes down to demand.
"When you look at the occupancy in nearly all of the WeWork and Spaces and Industrious (locations), they are very highly occupied," he said. In markets like El Segundo, where WeWork is opening an additional location, "there is enough demand to withstand the flow of new product," he said.
WeWork is set to add locations this year in Woodland Hills, El Segundo, Santa Monica, the Arts District, North Hollywood, downtown and Beverly Hills. The company, which is planning to go public later this year, also recently signed a lease for more than 135,000 square feet across four floors at the Wilshire Courtyard building in Miracle Mile — its largest lease this year.
WeWork declined to comment for this article.
Playing catch up
Compared to WeWork, newer entrants to the market like Spaces are "playing catch up," said Michael Nieman, a managing director at Savills.
In January, the coworking company signed leases for roughly 48,000 square feet at the Playhouse Plaza office building at 680 E. Colorado Blvd. in Pasadena and roughly 69,000 square feet at the Water Garden in Santa Monica.
Berretta said L.A.'s notoriously bad traffic makes a concept like Spaces desirable — its multiple locations shorten commute times for clients, he said. Some companies use Spaces locations as a secondary branch office or to test out a new market before signing a longer-term lease.
Beretta said Spaces plans to continue growing in the L.A. market.
A sustainable model?
Not all brokers are convinced coworking's current rate of expansion is sustainable.
Many companies are signing high-dollar leases, and "this late into a cycle, it's dangerous," said Nieman.
"This pace is not going to last," said Peter Belisle, JLL's southwest director. Still, Belisle said he expects growth to continue in the short term. And it's likely more property companies will launch their own coworking arms. He also said he expects more boutique coworking providers to set up shop in L.A.
"If we go into a recession, I think you'll see a consolidation," he said. "Not all the brands launched today will be around five years from now."
Fried disagreed, saying coworking has staying power. "Even if there is a correction in the market, this industry that came out of nowhere is sticking around," he said.
For reprint and licensing requests for this article, CLICK HERE.