Alibaba Courts LA Businesses
Chinese ecommerce giant wants US cos. to sell wholesale on its site
Thursday, August 1, 2019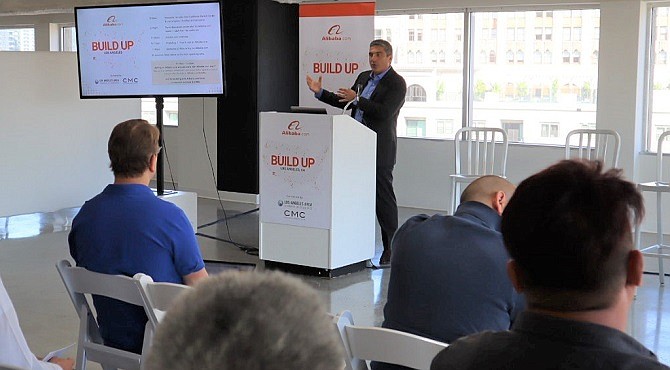 A top executive from Chinese ecommerce giant Alibaba Group Holding Ltd. was in Los Angeles last month pitching the company's effort to take on Amazon.com Inc. with a business-to-business platform tailored to U.S. distributors and manufacturers.
Many American businesses already use Alibaba to buy goods wholesale — primarily from Chinese manufacturers. That accounts for approximately one-third of Alibaba's B2B sales.
Now Alibaba is pushing for U.S. businesses to use its ecommerce site to sell their own products wholesale to other businesses and distributors, both domestically and around the world.
"The domestic B2B market is trillions of dollars," said John Caplan, head of North America B2B for Alibaba Group. "We think there is a substantial opportunity to help businesses capture that market." The global business to business market is $23.9 trillion, Caplan said.
The move is a push by the ecommerce giant to expand beyond China as the country's economic growth has slowed and a trade dispute is raging with its biggest customer, the United States.
Earlier this month, Caplan gathered a group of business managers and owners to pitch the B2B idea at an event in the Fashion District downtown. He told them Alibaba is especially focused on the L.A. region, a hub for trade with a large consumer population and a strong manufacturing sector.
Caplan acknowledged it could take a few years to get U.S. businesses to sign on.
Barry Morrill, a sales manager at International Supplies who was at the gathering, said he wants to sell in global markets but is not convinced Alibaba would work for his company, a camera accessory wholesaler based in the Harbor Gateway area. International Supplies does about $10 million in sales annually.
"It looks a little cumbersome," Morrill said of the Alibaba interface, adding that much of the site appeared to focus on Chinese-made products. Morrill said he'll wait and see how the site develops.
Alibaba is competing directly with Amazon's B2B arm, Amazon Business, which did $10 billion in B2B sales last year. Alibaba does have one leg up on the online giant: Earlier this year, Amazon said it planned to shut down its marketplace in China, Alibaba's home turf.
Alibaba's B2B arm could appeal to U.S. businesses because it allows companies to market to specific regions of the world — one way it aims to differentiate from Amazon. Alibaba said the site will allow for B2B sales across 190 countries.
Another advantage to Alibaba is its fee structure, the company said. Amazon asks for a $40 annual rate and a cut of sales. Alibaba has a single fee that ranges from $1,800 to $4,200 a year with no commission.
Morrill said he's wary of paying that much upfront for an untested product.
CORRECTION:
An earlier version of this story misspelled John Caplan's name.
Manufacturing, retail and trade reporter Rachel Uranga can be reached at ruranga@labusinessjournal.com or (323) 556-8351. Follow her on Twitter @racheluranga.
For reprint and licensing requests for this article, CLICK HERE.