OP Bancorp Reports First Quarter Profit Jump
Friday, April 26, 2019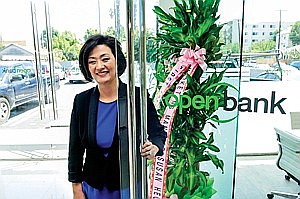 Open Bank on April 26 reported a 2019 first quarter profit of $4.7 million, up 46.8% year-over-year, boosted by a one-time gain on company owned life insurance.
Downtown-based OP Bancorp, parent of Open Bank, saw its stock rise in Friday trading after the earnings report. Shares closed at $9.10, up 39 cents, or 4.48%. The stock is up 1.9% year-to-date from its $8.93 a share price at market close on Jan. 2.
The bank plans to open its first full-service branch outside of California next week in Carrollton, Texas, a north-Dallas suburb, according to Open Bank's Chief Executive Min Kim.
The $1 billion-in-asset bank, which has 8 branches located in California, also announced the opening of two new loan production offices in Colorado and Washington. The bank, which was established 14 years ago to serve Koreatown, became publicly traded over a year ago. Open's strategy to move into Texas follows several other Koreatown-based banks that have established beachheads in urban centers in Texas to serve the growing Asian American communities there.
Open's total assets in the 2019 first quarter grew to $1.1 billion, while deposits grew to $929.4 million — up 12.6% and 13.6% respectively from the same period a year ago.
Outstanding loans grew to $903.4 million in the first quarter, up 13.6% from the same period in 2018.
The company said it has repurchased 324,074 shares of its common stock since a buyback program was announced on Jan. 25.
Finance reporter Pat Maio can be reached at pmaio@labusinessjournal.com or (323) 556-8329.
For reprint and licensing requests for this article, CLICK HERE.