Scopely's Culver City HQ to Double in Size
Mobile game developer has raised $250M; revenue rose 80% in 2018
Friday, April 19, 2019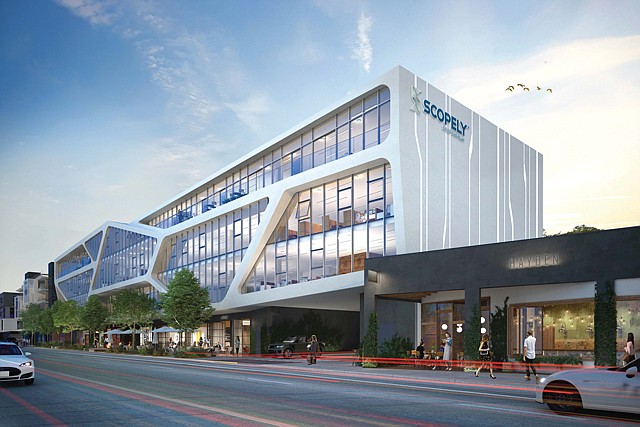 Mobile-game developer Scopely Inc. is more than doubling its footprint in Los Angeles, leasing an additional 60,000 square feet of office space near its current headquarters in Culver City.
Scopely on April 17 announced the deal with Culver City-based real estate firm and building developer Runyon Group. In late 2020, the game company will take over two floors at 8888 Washington Blvd., a new building adjacent to the Culver City Metro station. CBRE Group Inc. represented Scopely, which would not disclose how much it is paying for the lease or its duration. 
Scopely operates out of a 28,000-square-foot office in Culver City and will temporarily lease 4,000 square feet in the Samitaur Building nearby to house additional operations until it can expand into the new building. 
The mobile-game developer closed a $160 million Series C funding round in June 2018; that capital is fueling its expansions. Scopely has raised $250 million from venture investors since its 2011 founding and reports its 2018 revenue increased 80% year over year. 
"We're excited to expand our LA footprint to accommodate our exponential growth," Scopely Chief Executive Walter Driver said in a statement.
• • •
Boingo Installs 5G Wi-Fi at OC Airport
Westwood-based Boingo Wireless Inc. announced April 9 it has set up a 5G-compatible Wi-Fi network throughout John Wayne Airport in Orange County, the company's first attempt at such a system.
Boingo brought the new system online as part of a commercial trial with John Wayne Airport designed to test the new system's capabilities.Terms of the contract were not disclosed. A spokeswoman said the average Boingo contract varies, but the company generally seeks 10-year deals.
Boingo also said it partnered with Samsung Electronics Co. Ltd. in order to provide staff members at the airport with 5G-compatible Samsung Galaxy devices. Not all consumer devices in the market are enabled for 5G.
"(5G) Wi-Fi is a strategic pillar of Boingo's technology roadmap to elevate wireless performance and equip airports and other large venues with connectivity solutions for the 5G world," said Chief Technology Officer Derek Peterson.
Boingo was founded in 2001 and went public in 2011, raising $78 million in its initial public offering, which valued the company at $439 million. Boingo reported $251 million in 2018 revenue, roughly 23% growth from 2017, and it estimated revenue will rise by $30 million this year.
Boingo operates roughly 450 indoor wireless networks internationally and has 196 pending installations. Though its primary business is airport Wi-Fi, Boingo also holds contracts with the Marine Corps, Army and Air Force to provide high-speed Wi-Fi to military bases.
In August 2018, Boingo acquired South Carolina-based home Wi-Fi provider Elauwit Networks, securing access to 220 properties across the country where high-speed Wi-Fi is included as part of tenants' leases.
• • •
Serve Adds New Technologies
Pasadena-based logistics technology outfit Hold Serve Inc., known as Serve, had back-to-back software releases this month.
Serve operates a platform that connects retailers and delivery couriers to facilitate delivering goods to customers. The company takes a percentage of each delivery transaction, typically 6% to 7%.
On April 10, the company announced the launch of its new inventory management program, "Serve Sortation," which speeds up the sorting and delivery of products for shipping and logistics businesses.
"The importance of this new software is to offer peace of mind for the consumer. ... It increases the likelihood of a successful delivery and provides an overall better experience," Serve Chief Technology Officer Roman Tsarovsky said.
The announcement of that new software came less than a week after Serve said it was integrating facial recognition capabilities into its pharmaceutical and liquor deliveries.
Staff reporter Samson Amore can be reached at samore@labusinessjournal.com or (323) 556-8335.
For reprint and licensing requests for this article, CLICK HERE.