Construction Underway on Freight Corridor
$105M project aims to speed passage from ports of LA and Long Beach
Friday, April 5, 2019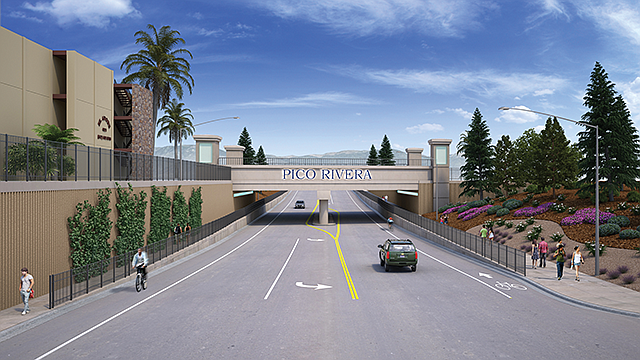 A Riverside prime contractor and several subcontractors, including four from L.A. County, broke ground late last month on one of the last big contracts that's part of an often overlooked $1.7 billion local infrastructure project known as Alameda Corridor-East.
The $105 million grade separation project in Pico Rivera will allow freight trains and everyday vehicular traffic to avoid each other as much as possible.
The larger infrastructure project consists of a series of 19 individual grade separation projects and another 20 grade crossing improvements scattered across the San Gabriel Valley. It's part of the effort to speed ever-growing volumes of freight traffic from the twin ports of Los Angeles and Long Beach to the Inland Empire and points east with a minimal amount of disruption to local residential and business communities. It was intended as a follow-on to the 20-mile, $2.4 billion Alameda Corridor project that opened in 2002 to connect the ports to rail yards east of downtown.
Riverside Construction Co. Inc. was named the prime contractor for the Pico Rivera portion of the project in December by the Alameda Corridor-East Construction Authority, whose members are appointed by 30 local governmental bodies serving the San Gabriel Valley. Earlier this year, the Riverside-based prime contractor submitted a list of 11 subcontractors to the authority; four are headquartered in Los Angeles County: Granstrom Masonry Inc., of Torrance; J.V. Land Clearing Co. Inc., of San Dimas (land clearing and demolition); and Crown Fence Co. and J.A. Placek Construction Co., (railroad construction), both of Santa Fe Springs.
The 30-month Pico Rivera project will convert an at-grade rail crossing at Durfee Avenue into a two-lane road underpass and an at-grade railroad bridge that will have a Pico Rivera sign on it. Durfee Avenue has, until now, carried nearly 14,000 vehicles per day; roughly 50 trains per day go through the crossing, stopping traffic for up to eight minutes each time.
The Durfee Avenue undercrossing is the 17th grade separation project to break ground. Eleven have already been completed, including a 1.4-mile long trench in San Gabriel that wrapped up in 2017. Three others are now under construction in the City of Industry, and two more are in final design stages — one in Montebello and another in City of Industry.
• • •
From tire factory to college campus
Eagle Rock-based TDM Architects Inc. and Jacobs Engineering Group Inc. — formerly of Pasadena but now based in Dallas — broke ground March 22 on a $65 million project to turn a former Firestone Tire & Rubber Co. factory in South Gate into a satellite college campus for East Los Angeles College.
For reprint and licensing requests for this article, CLICK HERE.
Prev Next