Beverly Grove Church to Build Apartments
Our Lady of Mt. Lebanon to build, manage 19-story residential building
Friday, April 5, 2019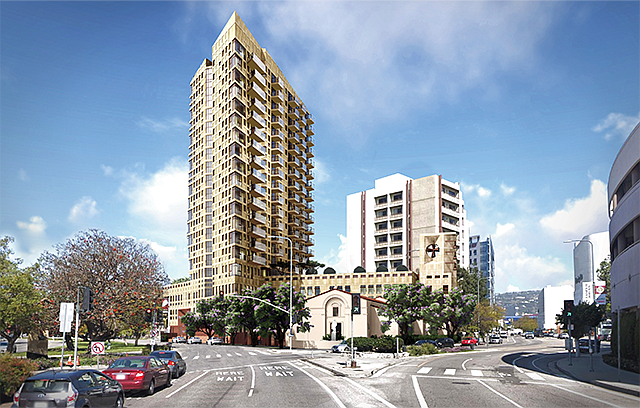 Maronite Catholic church Our Lady of Mt. Lebanon – St. Peter Cathedral has filed plans for a 19-story, 153-unit residential tower on its 1-acre campus.
In a March 28 announcement, the Beverly Grove church said the plans will also include revamping the cathedral and church buildings, which will add more than 31,000 square feet of offices, meeting rooms and an auditorium.
Bishop Abdallah Elias Zaidan said in a statement that the project will allow the church to serve the larger community. Of the proposed residential building's 153 units, 17 will be affordable housing, the church said.
"It will generate revenue that will ensure the future of the Church, while also preserving its cultural history and at the same time provide new and much-needed housing for our neighborhood," Zaidan said in a statement.
Sawtelle-based Nadel Architects Inc. designed the project with help from Architectural Resources Group Inc. on preservation issues. Culver City-based LRM Ltd. Landscape Architects is designing the landscaping. Pasadena-based Morillo Construction Inc. is the project manager.
Our Lady of Mt. Lebanon was established in Boyle Heights in 1923. It moved to 333 S. San Vicente Blvd. in 1966.
The church's nearly 7,000-square-foot cathedral was built in 1937. It will be temporarily deconstructed and moved. It will be renovated to widen its aisles and add storage space.
• • •
Long Beach developer gobbles up office space
Long Beach-based Harbor Associates is building up its real estate portfolio in Southern California, with plans to acquire more than $250 million in assets in the next year.
As part of that goal, Harbor Associates last month paid $47.9 million for a 213,000-square-foot office campus in Encino, known as the Encino Office Park, at 6345 Balboa Blvd. CBRE Group Inc.'s Anthony DeLorenzo, Mark Shaffer, Todd Tydlaska and Mike Longo represented the seller in the transaction. CBRE's Shaun Moothart, Bruce Francis, Dana Summers and Katie Diaz arranged financing with PNC Bank.
Harbor has roughly 1 million square feet of office space locally. Harbor Principal Paul Miszkowicz said the company is on the hunt for properties like the Encino office park — suburban locations in need of upgrades.
Harbor is planning to renovate the Encino acquisition with a new entry, electric-vehicle charging stations and other improvements.
"We're typically value-add office investors," Miszkowicz said. "A lot of what we end up buying has elements that require renovation."
The group plans to hold on to assets for three to five years, giving it time to fix and stabilize the assets before selling them. Miszkowicz said the group was drawn to Encino because many of the tenants are professional services providers, who tend to be more reliable long-term tenants than businesses in other industries.
Prev Next
For reprint and licensing requests for this article, CLICK HERE.