GAMING GURU
Newest addition to billionaire Soon-Shiong's list of honorifics
Friday, September 21, 2018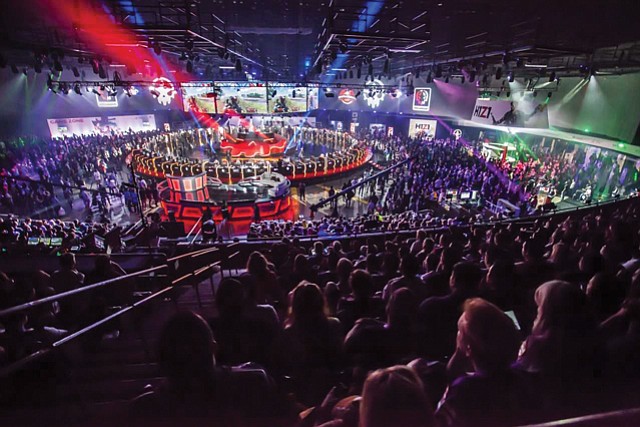 Patrick Soon-Shiong's move to take a minority stake in Culver City-based video game maker Daybreak Game Co. seems to emphasize the bioscience billionaire-turned-media mogul's instinctive side.
"Where this will lead economically I can't predict, but it will be big and important for us to be in the middle of," said Soon-Shiong, who earlier this year acquired the Los Angeles Times to go with various bioscience holdings that account for the bulk of his fortune.
The deal calls for Soon-Shiong to spin off from Daybreak an e-sports league that will hold competitions at a site he owns near the Times' new El Segundo headquarters, another piece in his portfolio.
Both Soon-Shiong and Daybreak declined to disclose any financial information related to the deal, but the new entity, dubbed NantG Mobile, is controlled by Soon-Shiong through his Culver City-based NantWorks holding company.
Soon-Shiong told the Business Journal he wasn't sure where exactly the e-sports industry would wind up, but he's determined to have a foothold in whatever its future holds.
The new NantG Mobile outfit, which counts Soon-Shiong as chief executive, will publish mobile versions of Daybreak Game's current console and personal computer titles, as well as control rights to existing and developing professional e-sports leagues.
Daybreak is the publisher and developer behind popular, free-to-play multiplayer online games, such as "EverQuest," "Lord of the Rings Online" and "Dungeons and Dragons Online" – all of which bring in revenue by selling add-ons that enhance a participant's technical toolkit. Its most popular title is "H1Z1 Battle Royale," which the company reports has more than 12 million PlayStation 4 users to date.
The e-sports industry is growing rapidly, according to industry analyst Newzoo, which reported 2017 global revenue reached $696 million, up 41 percent from the previous year.
Most of the revenue comes from a combination of publisher's fees, ticket sales, advertising and media rights.
Sponsorships, media rights and ads are growing fast. Sponsorships alone account for $266 million – some 38 percent – of the industry's revenue last year.
Newzoo estimates e-sports revenue will reach $1.5 billion by 2020, with an estimated $1.2 billion generated from brand media rights, sponsorships and advertisements.
Gaming growth
Jason Epstein, Daybreak Game's owner and board chair, said the venture with Soon-Shiong is still evolving, but the goal is to expand the company's reach in mobile gaming and e-sports.
"(The focus) is to take Daybreak's intellectual property and create both a broader e-sports experience and Daybreak's e-sports presence, and also build mobile games around Daybreak IP," Epstein said.
The company is currently building a proprietary game engine and "considering both using the existing games and building mobile versions to create completely new concepts," said Epstein, who couldn't specify the cost of transferring a PC or console game to a mobile platform.
Another arm of the joint venture is tied to Soon-Shiong's redevelopment of a 100,000-square-foot building, formerly a Classic Party Rentals Inc. location, at 2310 E. Imperial Hwy in El Segundo. The idea is to transform the structure into a multiuse space dubbed LA Times Center.
The building already has fiber optic cable provided by NantWorks with wireless connectivity speeds of 100 gigabytes and the ability to transmit up to a terabyte of data per second, Soon-Shiong said. He added that the building's exterior is complete, but "the innards have to be modified."
The building will house the "H1Z1" Pro League, an e-sports competition that plays out as a "battle royale" – with more than two teams engaged in each contest. The league held its inaugural season in Las Vegas in April. Roughly 15 teams with 75 total players participated.
Soon-Shiong, who was No. 1 on the Business Journal's 2018 Wealthiest Angelenos list with an estimated net worth of $21.6 billion, said ticket sales and advertising will drive NantG's e-sports revenue going forward. He couldn't confirm the capacity of the new space but said "the idea is to create the Staples Center of e-sports − that's the best way to think about it. We think of this as an opportunity to convene the community of different ages, from millennials all the way to older generations."
L.A. hub
NantG Mobile enters an increasingly crowded e-sports ecosystem in Los Angeles. Sawtelle-based Riot Games Inc., developer of "League of Legends Online," and Activision Blizzard Inc.'s "Overwatch" both boast huge global followings and have leagues associated with them. There are also several e-sports teams headquartered in Los Angeles, including Team Liquid, which is owned by e-sports holding company Axiomatic Gaming, whose backers include Mandalay Entertainment Group Chief Executive Peter Guber and Oaktree Capital Management Chief Executive Bruce Karsh.
Axiomatic Chief Executive Bruce Stein said the firm, which was founded in 2015, invested in Team Liquid two years ago as an entry point into what it saw as a burgeoning industry.
"The space was so new, but the audience numbers so compelling that we had to find a way in," he said.
Those audience numbers are now north of 300 million worldwide and still have ample room to grow, according to Stein.
"Young people, minorities and women are not part of e-sports, and these audiences will over time become more interested in e-sports as more titles that appeal to them will be released," he said. "The piece to be aware of is that we are still at a very early stage in the evolution of the business from a standpoint of the ways it's going to be commercialized. Sponsorships, ads and merchandising are all traditional components that are part of commercializing a sport that are yet to mature in e-sports."
Stein said he expects sponsorships to grow and remain e-sports' "No. 1 revenue source, particularly as franchising occurs." He added that e-sports teams in particular provide a unique appeal to sponsors and advertisers because they have a brand.
"It gives (advertisers) shelter," Stein said. "Sponsors can get behind a team and know that the team will not be relegated and be part of the league for an extended period of time."
Team Liquid recently signed a multiyear contract with gaming hardware manufacturer Alienware Corp., which Stein called "a hand-in-glove type sponsorship" where the hardware can be used and complemented by Team Liquid. Stein declined to disclose the value of the Alienware deal.
Long game
Soon-Shiong's stake in Daybreak isn't the first video game investment the billionaire has made – he put an estimated $215 million in Culver City online multiplayer game developer Fourth Wall Studios in 2011.
It is, however, the first e-sports venture he will have direct control over.
The NantG board, in addition to Soon-Shiong, includes Jace Hall, who manages Daybreak's "H1Z1" league, and NantG's lead developer John Wiacek. No further executives have been hired yet to "manage the entire entity," Soon-Shiong said.
NantG Mobile plans to build off the "H1Z1" league to create leagues for other titles.
"We'll also invite anybody who has a game to bring a game," Soon-Shiong said. "We will democratize this engine to have people bring their games and stories; there's enough talent."
Stein said the long-term value of e-sports investments is still somewhat unknown and "one inescapable component of video gaming and e-sports is that it's a title business" that will rely on game popularity. If a particular game becomes less popular, that could negatively impact a venture, but Stein said investors "try to find a big enough base, so if there's some deterioration over time, you still have an audience to fortify and reinforce your brand."
For Soon-Shiong, the investment seems to also be a part of his larger investment in Los Angeles – and his belief it is the center of the creative world.
"L.A. is the center of e-sports. This is an exciting time, and we want to be in the heart of the talent," he said. "Much like the movie industry, games [are] just another mechanism for creativity and technology."
For reprint and licensing requests for this article, CLICK HERE.