American Air's $1.6B Plan
Friday, September 14, 2018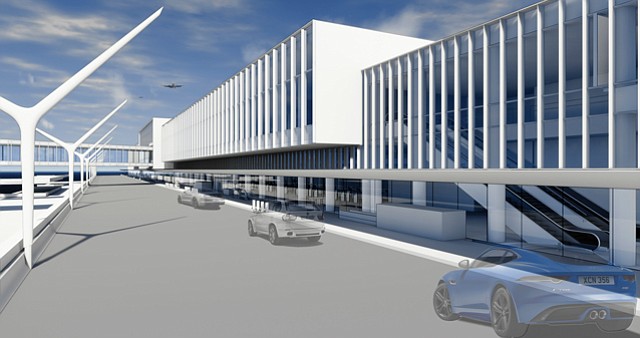 American Airlines Inc. is set to break ground next month on a $1.6 billion renovation of its two terminals at Los Angeles International Airport, one of the largest terminal rehabs ever undertaken by a carrier at a U.S. airport.
The Fort Worth, Texas-based airline, which occupies all of LAX terminal 4 and some of terminal 5, plans to connect the two terminals with a new structure that will also link to the airport's planned people mover. Also on tap: New and larger combined passenger check-in and baggage-claim areas, and centralized security screening checkpoints.
Most of the project is expected to be completed within nine years – in advance of the opening of the 2028 Summer Olympic Games in Los Angeles – although some behind-the-scenes projects may extend a bit longer.
American Airlines has selected Greeley, Colo.-based Hensel Phelps as the project construction manager for its terminal renovation project; the firm also has worked on renovations for United Airlines' Terminal 7 and Southwest Airlines' Terminal 1. The project team also includes the downtown office of architectural firm Gensler; Houston-based design firm Pierce Goodwin Alexander & Linville Inc.; and AvAirPros Inc. of Naples, Fla.
The terminal improvements planned by American Airlines are designed to bring the two aging terminals up to current standards and allow for future growth, according to Suzanne Boda, the carrier's senior vice president for Los Angeles operation.
The airline confirmed that the $1.6 billion project is the largest terminal renovation ever carried out by the company.
American Airlines was the largest carrier at LAX last year with 16 million passengers, a 19 percent market share at the facility, according to Los Angeles World Airports, the city agency that runs LAX. The airline so far this year has retained its top rank at LAX: through July, American had nearly 9.5 million passengers, or an 18.5 percent market share.
Boda said the continued increase in passenger traffic and the physical space required for security since 9/11 combine to strain the current terminals' capacity.

"Terminal 4, our main terminal, is one of the oldest terminals at LAX – it's at least 50 years old and was put together in several pieces," Boda said. "We've done some piecemeal modernizations over the years, but it has never been completely reconstructed. We need new and upgraded information technology infrastructure and new physical infrastructure. And we need to be ready for the growth in passenger traffic that we know is coming."
Prev Next
For reprint and licensing requests for this article, CLICK HERE.