Cadiz Shares Jump as Bill to Slow its Desert Water Project Dies in Legislature
Tuesday, September 4, 2018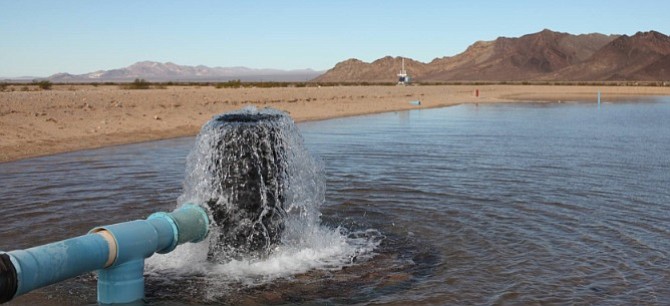 Shares of Los Angeles water project developer Cadiz Inc. shot up 19 percent on Sept. 4 after a bill to slow its desert water project died in the Legislature during the final hours of the session on Aug. 31.
SB 120, by state Sen. Richard Roth, D-Riverside, was a repeat of a measure first introduced last year that would have allowed the state Lands Commission and the state Department of Fish and Wildlife to order further environmental review of Cadiz' groundwater pumping project. But, just like last year's bill, this measure was also held by the Senate Appropriations Committee as some members objected to the way the bill was resurrected with just 10 days left in the session.
As a result, Cadiz shares closed up $1.80 to $11.40, recovering most of the ground lost in the previous 10 days when the bill's passage looked increasingly likely.
"We believe SB 120 was bad public policy that put California infrastructure development and jobs at risk, undermined California's environmental laws and removed certainty from the state's already rigorous permitting process," Cadiz spokeswoman Courtney Degener said in a statement released by the company after the bill failed to clear the Legislature.
Cadiz several years ago received approval under the California Environmental Quality Act to proceed with its water storage and transfer project, pumping water from an aquifer it owns in the Mojave Desert and then piping the water to the Metropolitan Water District's Colorado River Aqueduct.
Environmental groups have opposed the project, saying the withdrawal of water would harm desert plant and animal life. Once federal approval for the water pipeline looked likely last year, opponents pushed for this bill last year to give the state more opportunity to review and possibly halt the water project. That bill failed in the closing hours of last year's session. The Department of Interior did approve the pipeline earlier this year.
This year, Roth took an existing bill on an unrelated matter and amended it to resurrect the provisions of last year's failed bill. When the bill was unveiled nearly two weeks ago, Cadiz shares slid 26 percent over the course of one week as the bill made it past a couple of committees.
Economy, education, energy and transportation reporter Howard Fine can be reached at hfine@labusinessjournal.com. Follow him on Twitter @howardafine.
For reprint and licensing requests for this article, CLICK HERE.