Local Airport Passenger Volume Mixed in September: LAX, Ontario Up, Long Beach Down
JetBlue Cutbacks at Long Beach Leave Airport Feeling Blue
Wednesday, October 31, 2018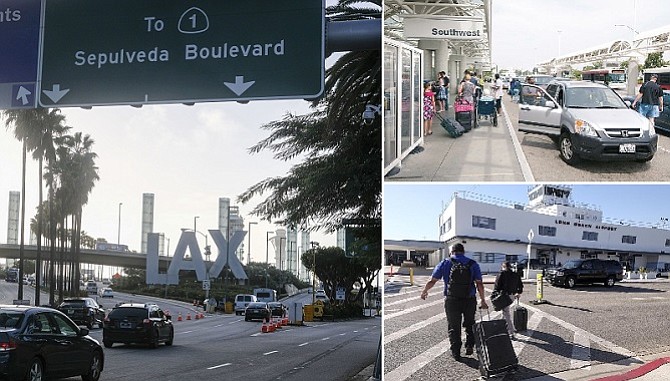 Passenger traffic at three Los Angeles area airports in September was mixed, with a large gain at Ontario International Airport, a slight increase at Los Angeles International Airport and a drop at Long Beach Airport. But all three airports posted solid gains for the nine months year-to-date.
Los Angeles World Airports, the city agency that runs LAX, reported a 1.4 percent increase over last year in passenger traffic in September to 6.9 million people. Domestic passenger traffic rose 0.9 percent to 4.8 million, while international traffic jumped 2.6 percent to 2.1 million.
For the first nine months of 2018, LAX passenger traffic rose 4.2 percent to 66.1 million, with international traffic up 5.2 percent and the domestic passenger count up 3.7 percent.
Air cargo tonnage was also up, rising 5.3 percent to 207,000 metric tons in September; cargo tonnage rose 2.7 percent for the first nine months of the year.
The gains were larger at Ontario International Airport, where the Ontario International Airport Authority reported passenger traffic rose 14 percent in September compared to last September, to 421,000. Domestic traffic rose 11.8 percent to 402,000 while international traffic doubled to nearly 18,000 thanks to China Air Lines launching service earlier this year to Taiwan in the first transoceanic flight from Ontario.
For the first nine months of 2018, passenger traffic at Ontario rose 13.3 percent to nearly 3.8 million; domestic traffic was up 12 percent and international traffic up 49 percent.
Air cargo tonnage was up 12 percent in September and 18 percent for the first nine months.
The passenger traffic picture was not so good at Long Beach, where the city agency running the airport reported the total passenger count fell 5.2 percent in September to 285,000. The drop was entirely due to a 24 percent skid in JetBlue Airways passenger traffic to 182,000. The long-dominant carrier at Long Beach, JetBlue earlier this year announced cutbacks in flights at Long Beach after last year's failure of the city to move toward international service at the airport; a portion of those flight cutbacks took effect in September.
Southwest Airlines picked up some of the flight slots vacated by JetBlue; its number of passengers jumped 75 percent to 66,000 in September.
Year-to-date, though, the passenger count at Long Beach was up 8 percent to 3.0 million.
With the overall decline in flights at Long Beach in September, air cargo tonnage also fell 6.4 percent to 1,844 metric tons.
Hollywood Burbank Airport had not yet released its September passenger statistics as of Oct. 31. In August, the Burbank-Glendale-Pasadena Airport Authority reported passenger traffic was up 10.5 percent to 329,000; for the eight months January through August, the passenger count was up 13 percent to 3.4 million.
Education, energy, engineering/construction and infrastructure reporter Howard Fine can be reached at hfine@labusinessjournal.com. Follow him on Twitter @howardafine.
For reprint and licensing requests for this article, CLICK HERE.