Faraday Co-Founder Resigns
Sampson's departure is the second in two days for the electric car maker
Tuesday, October 30, 2018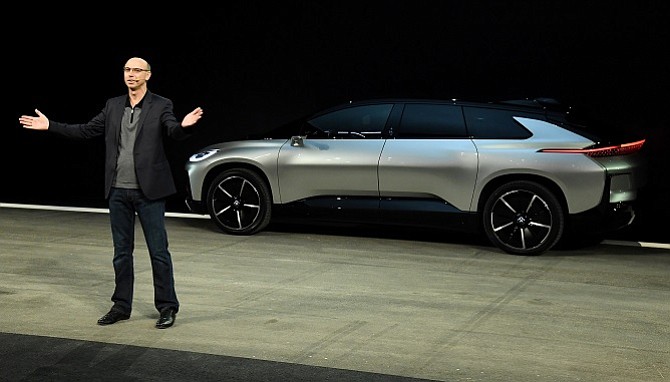 Nick Sampson, co-founder of Gardena-based electric vehicle manufacturer Faraday and Future Inc., resigned on Oct. 30 after calling the company "effectively insolvent."
Sampson's departure is the latest defection from Faraday; the company's vice president and chief engineering designer Peter Savagian left on Oct. 29.
Sampson is one of Faraday's three co-founders and served as senior vice president of product strategy for the company. In an email obtained by The Verge, Sampson said "the company is effectively insolvent in both its financial and personnel assets, it will at best will limp along for the foreseeable future."
"I feel that my role in Faraday Future is no (longer) a path that I can follow, so I will leave the company, effective immediately. I cannot continue knowing the devastating impact we are having on the lives of our employees, their families and loved ones as we as the ripple effect this will have on lives throughout our suppliers and the industry as a whole."
Sampson said in the email that he would consider returning to the company if circumstances "should materially change."
Founded 2014, Faraday made headlines in June 2018 after receiving a $2 billion investment from Chinese real estate firm Evergrande Group. Evergrande gave Faraday an initial installment of $800 million, which ran out just under two months later in July. After being denied a request for the remaining $1.2 billion from Evergrande Group, Faraday took the case to arbitration in Hong Kong, where an arbitrator allowed Faraday to seek up to $500 million in new investment money from investors approved by Evergrande.
A statement provided by a Faraday spokesman confirmed Sampson and Savagian's departures, and suggested creditor Evergrande was to blame for the financial hardships.
"Recent actions taken by Evergrande is causing Faraday Future to experience extraordinary financial hardship," the statement said. "The investor has intervened in the company's capital planning and is preventing Faraday Future from utilizing our assets, which requires (us) to take some very difficult yet necessary actions."
To conserve funds, Faraday Chief Executive Jia Yueting announced unpaid furloughs for employees who began working after May 1, 2018, according to The Verge, which pegs Faraday's monthly payroll at about $10 million. Currently, hourly workers who have been with the company more than six months are not subject to the furloughs but they have been demoted to minimum wage, while full-time staff workers are operating under reduced salaries of $50,000 annually, a roughly 20 percent wage cut.
The Faraday spokesman noted the furlough, an unpaid leave of absence, is likely to run through December and that "all employees will continue to receive healthcare benefits if they previously received benefits them."
According to Menlo Park–headquartered financial services firm Robert Half International Inc., the average salary for a moderately skilled quality assurance and testing engineer is an annual $71,000. Developers and program analysts make an average of $87,000 yearly, while skilled developers can pull in salaries up to $148,500, according to Robert Half.
The electric sedan Faraday plans to bring to market costs roughly $180,000, compared to Tesla Inc.'s Model S Sedan, which retails for an estimated $75,700.
In August 2017, Faraday agreed to lease a 700,000 square-foot factory in Hanford, promising the creation of some additional 1,300 jobs.
According to the Wall Street Journal, the Hanford factory lease was paid for by a $14 million loan from New York–based Innovatus Capital Partners after Faraday put its Gardena headquarters up for collateral.
"This was an extremely tough decision to make, and we recognize the emotional stress and financial strain this puts on people's personal lives. We are grateful to all of the hundreds of employees who are willing to stay and continue to work on the FF 91 core project, as well as those who will be on a temporary furlough," the Faraday statement said. "In addition, we take our relationship with our suppliers seriously, and we hope to receive support and understanding from our global partners as Faraday Future overcomes our difficulties."
Tech reporter Samson Amore can be reached at samore@labusinessjournal.com or (323) 556-8335. Follow him on Twitter @samsonamore.
For reprint and licensing requests for this article, CLICK HERE.