Airport Commissioners Approve $2B Contract for LAX Car Rental Facility
Friday, October 19, 2018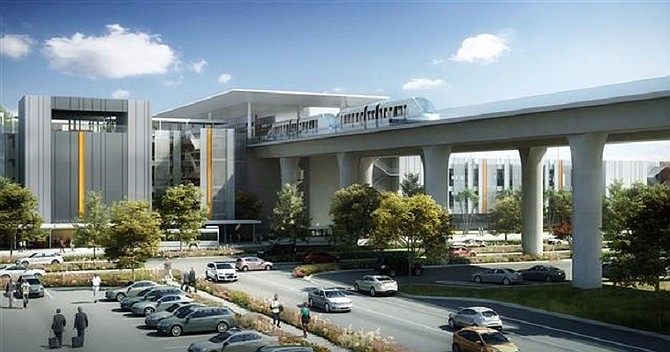 The Los Angeles Board of Airport Commissioners on Oct. 18 approved a $2 billion, 28-year contract to a consortium of 11 companies to design, build and operate a consolidated car rental facility near Los Angeles International Airport.
The approval followed a month of contract negotiations with the consortium and represents the third and last major contract awarded this year in the nearly $6 billion plan to improve ground access to LAX.
Earlier this year, the airport panel awarded a $4.9 billion contract to another consortium to design, build and operate an automated people mover system connecting the car rental facility with the airport terminals, as well as a $209 million contract to build a parking structure at an intermodal facility connecting bus and rail transit to the people mover.
"With today's board approval, we have completed the procurement process on the major components of the Landside Access Modernization Program," Sean Burton, president of the Board of Airport Commissioners, said in a statement issued Oct. 18.
The consolidated car rental facility contract must still be sent to the Los Angeles City Council for final approval, an action expected within the next few weeks.
The consortium for the consolidated car rental facility, known as L.A. Gateway Partners, consists of 11 companies, led by PCL Construction Services Inc. of Denver as the general contractor. The main local company on the team is downtown-based design firm A.C. Martin Partners.
The consolidated car rental facility, which has an estimated construction cost of $1 billion, will be located two miles east of LAX, next to the 405 Freeway; the planned automated people mover will connect the facility to the airport terminals. When completed sometime in 2023, the facility will consolidate operations of more than a dozen rental car companies that are now scattered throughout Westchester, El Segundo and other nearby airport communities. The facility and people mover will also eliminate the need for the hundreds of car rental shuttles now circulating through and around the airport.
In August, the board approved rental agreements with the seven parent companies of car rental firms that control 99 percent of the rental car market at LAX.
Over the summer, Los Angeles World Airports staff recommended L.A. Gateway Partners from among four bidding teams after its bid scored first for lowest cost and second for technical merit.
Economy, education, energy and transportation reporter Howard Fine can be reached at hfine@labusinessjournal.com. Follow him on Twitter @howardafine.
For reprint and licensing requests for this article, CLICK HERE.