Rarified Air
Los Angeles International Airport sees passenger growth once again
Friday, November 30, 2018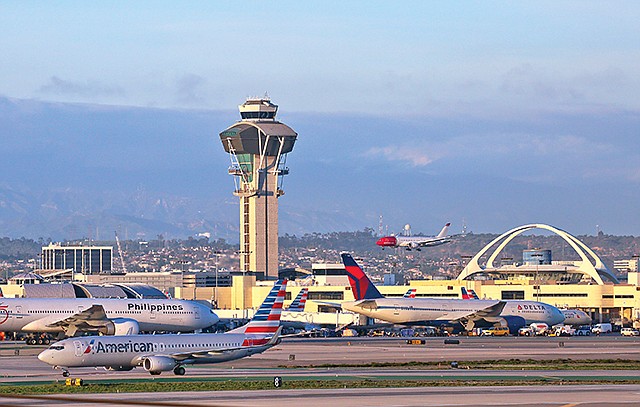 Los Angeles International Airport hosts scores of airlines, but it's dominated by five major air carriers that together account for just over two-thirds of all passenger traffic: American Airlines Inc., of Fort Worth, Texas; Delta Air Lines Inc., of Atlanta; United Air Lines Inc., of Chicago; Southwest Airlines Co. of Dallas; and Alaska Airlines Inc., of Seattle.
Alaska Airlines this year solidified its standing as one of the Big Five airlines at LAX as it completed its purchase and absorption of Virgin America Inc., which had been the No. 6 airline by market share. The purchase took place two years ago, but Alaska retained the Virgin America name until earlier this year, which is why Virgin America remained in the ranking from Los Angeles World Airports.
The two largest air carriers at LAX by passenger count – American and Delta – are in the midst of billion-dollar-plus renovations of their terminals at the airport, while No. 3 United and No. 4 Southwest recently completed their terminal renovations, which came in at around $400 million each.
Overall, passenger traffic at LAX has grown nearly 4 percent for the first 10 months of this year compared to the first 10 months of last year to reach 73.4 million. That growth rate is down from about 5 percent for the equivalent 2016-17 timeframe.
Brian Sumers, senior aviation business editor with Skift Inc., a New York-based travel intelligence media company, cited several factors behind this slowdown, including the impacts of terminal construction, some limits on gate capacity and the siphoning off of some air traffic to Hollywood Burbank Airport and Ontario International Airport.
"Look, 4 percent growth is still strong growth for an airport the size of LAX, just not the breakneck growth we've become used to seeing in recent years," Sumers said.
He added he expects the growth rate to tick up again once the first phase of the Midfield Satellite Concourse opens in 2020, adding several more gates into the mix.
Just as with airlines, a handful of rental car brands dominate the rental car market: the top six brands by market share together comprise three-fourths of the total market. But the business is, in reality, even more concentrated since the major car rental companies each own several brands. For example, Enterprise Holdings Inc., of St. Louis, owns the Alamo Rent A Car, Enterprise Rent-A-Car and National Car Rental brands, giving it a 34 percent share of the market, the largest share owned by a single entity.
For reprint and licensing requests for this article, CLICK HERE.