$60.5M for Long Beach Creative Office 'Hubb'
Redwood Partners shells out hoping to attract startup crowd farther south
Friday, November 30, 2018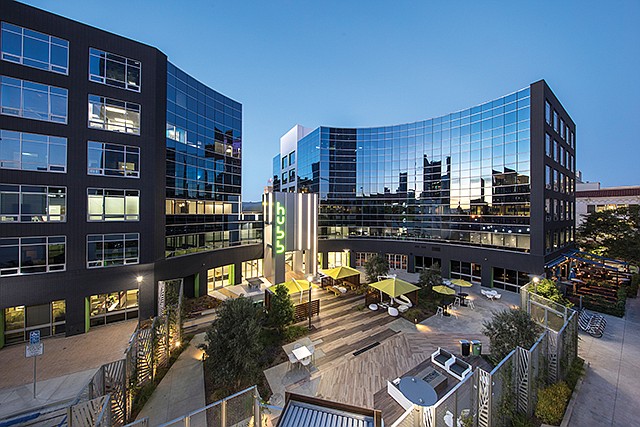 Long Beach isn't just a destination for cruise liners and container ships. Creative startups are increasingly dropping anchor in the coastal city's downtown.
Real-estate developer Redwood Partners, based in Newport Beach, is getting in on that new business with its purchase of The Hubb, a creative office space, for $60.5 million.
A partnership between Ocean West Capital Partners and Singerman Real Estate sold the property after investing $12 million in renovations that were completed last year. Located at 100 W. Broadway, the 210,482-square-foot space is 88 percent leased.
Madison Partners' Bob Safai, Matt Case and Brad Schlaak represented the buyer. Newmark Knight Frank's Kevin Shannon, Ken White, Rob Hannan, Laura Stumm and Michael Moll represented the seller.
"Ocean West and Singerman did a fantastic job with the renovation and lease up. Redwood Partners will continue right where they left off and capitalize on the remaining upside potential," Case said in a statement.
"Downtown Long Beach has so much
positive momentum right now," Hannan s
aid in a statement, citing local infrastructure investment and revitalization projects in residential, hotel and retail properties. "The Hubb's position as a preferred office destination will only benefit as the City continues
this upward trend."
• • •
1,200 Veteran Housing Units Planned for West L.A.
The U.S. Department of Veterans Affairs has selected West LA Veterans Collective, or WLAVC, to develop at least 900 housing units at the VA's Greater Los Angeles Healthcare System − West Los Angeles Campus.
Part of a broader effort to add 1,200 units of veteran housing at the West L.A. campus, the WLAVC's plan marks a major step toward addressing L.A. County's ongoing homelessness crisis, which has been particularly devastating among the region's veteran population.
The WLAVC, made up of Culver City-based Century Housing Corp., downtown-based U.S. Vets and Brentwood-based Thomas Safran & Associates, will be the principal developer on the project.
"We look forward to breaking ground on what will be the largest housing facility for homeless and low-income Veterans in America," Stephen Peck, U.S. Vets' chief executive, said in a statement.
"The collective efforts of the West L.A. Veterans Collective, together with the VA and our community of supporters, will forever change the landscape for brave Angelenos who served our country and deserve our care," Peck said.
• • •
Vacant Warehouse Sells for $24.5M
As e-commerce takes over from brick-and-mortar, retailers are on the hunt for warehouses and industrial spaces where they can hold inventory and fill online orders as close to customers as possible.
Here in Southern California – home to millions of avid online shoppers – those properties are getting harder to find, and rising demand is driving up prices.
Case in point: A vacant warehouse in Vernon sold for $24.5 million, Newmark Knight Frank announced Nov. 26. The 116,450-square-foot building, at 5685 Alcoa Ave., sits on a 5.1-acre lot in the industrial city that neighbors downtown. The warehouse was built in 2000 and will undergo major changes.
Newmark Knight Frank Executive Managing Director John McMillan represented the buyer, a fund managed by Clarion Partners. Jeff Sanita, Greg Stumm and Danny Williams, of NKF, also represented Clarion.
McMillan said once the property is refurbished, it will be "a prime last-mile location in the heart of Los Angeles County," particularly appealing to online retailers trying to meet tight delivery windows of same-day, overnight and 2-day delivery to their Southern California customers.
Richard Abdulian, also with Newmark Knight Frank, represented the seller, Sandberg Furniture Manufacturing Co. Inc.
Staff reporter Hannah Madans can be reached at hmadans@labusinessjournal.com or (323) 556-8337.
For reprint and licensing requests for this article, CLICK HERE.