Tetra Tech Wins Portion of $100M Federal Contract
Five firms tapped to provide engineering services in Republic of Korea
Tuesday, November 27, 2018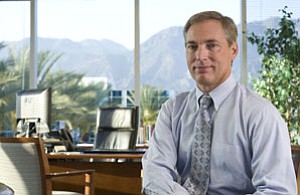 Pasadena engineering firm Tetra Tech Inc. has won a portion of a contract potentially worth $100 million over five years from the U.S. Army Corps of Engineers to provide architectural and engineering services to the Corps and other U.S. government agencies in the Republic of Korea.
Tetra Tech is one of five awardees for this contract; two of the other awardees are units of Jacobs Engineering Group Inc., formerly of Pasadena but now based in Dallas, Texas. No specific dollar contract amounts are tied to the individual awardees, just the maximum aggregate value of $100 million for all five awardees. Also, the contract awards are specified for one year, with options to renew annually for a total of five years with an aggregate cap on all awards of $100 million.
The selections by the U.S. Army Corps of Engineers were made Oct. 24, but Tetra Tech did not make its announcement of its award until Nov. 26.
All of the awardees, including Tetra Tech, will provide architectural and engineering services in support of the U.S. Army, Air Force, and other federal agencies.
According to Tetra Tech's announcement, the company will conduct site investigations, prepare engineering studies, conceptual designs and full design documents; as well as provide planning and construction management services. Projects may include the design of innovative new structures, and improvement of existing infrastructure including the adoption of the latest technical advancements in water delivery systems.
"The U.S. Army Corps of Engineers has been a valued client for more than 40 years," Tetra Tech Chief Executive Dan Batrack said in the announcement. "We look forward to supporting the Far East District in its mission to contribute significantly to the peace and security in the Pacific region."
Education, energy, engineering/construction and infrastructure reporter Howard Fine can be reached at hfine@labusinessjournal.com. Follow him on Twitter @howardafine.
For reprint and licensing requests for this article, CLICK HERE.