Boxwood Merger Raises $200 Million in IPO
Santa Monica-based firm plans to buy technical, industrial services companies
Friday, November 23, 2018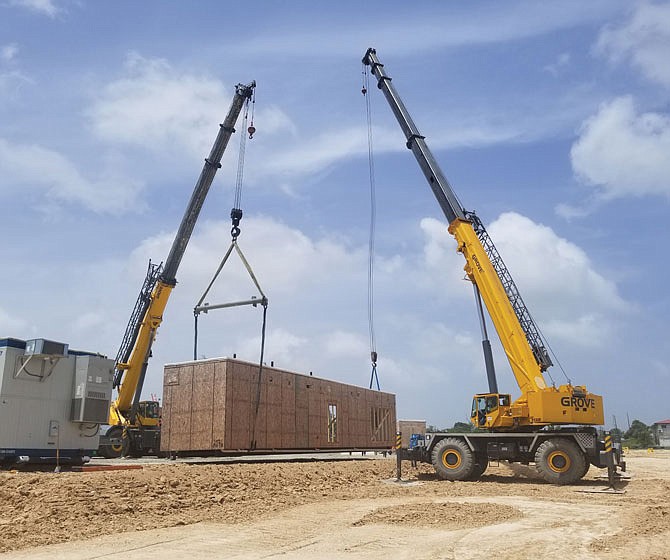 Santa Monica-based investment fund Boxwood Merger Corp. has closed on a $200 million public offering of its stock.
The company's stock closed at $10 a share in its Nov. 16 debut on the Nasdaq stock exchange under the symbol BWMC.
Led by Stephen Kadenacy, former chief operating officer of Los Angeles engineering giant AECOM, Boxwood is a special purpose acquisition company, or SPAC. SPACs allow public stock market investors to invest in private equity type transactions, particularly leveraged buyouts. Its purpose is to merge or acquire other businesses.
The clock is now ticking for Boxwood, which has two years to find an acquisition target. Boxwood intends to focus on buying companies that provide technical and industrial services in the United States.
Private equity firms have an appetite to partner with SPACs like Boxwood because they are cash rich, said Kadenacy, who noted that Australia's Macquarie Capital owns half of his company's shares. In an interview, Kadenacy said Macquarie's backing is strategic.
"It's the largest infrastructure investor in the world," he said. The $200 million raise will give Boxwood the ability to purchase a company with a total enterprise value (market capitalization plus debt) of $600 million to $2 billion.
"We'll spend all of it," said Kadenacy of the $200 million raise. "We absolutely have a longer-term strategy to grow the company through acquisition."
He added that Boxwood has identified about 150 businesses that fit its bill for possible acquisition. "We are now starting discussions in earnest on our targets," he said.
Kadenacy worked for a decade at AECOM, which saw $18.2 billion in revenue in 2017. In his last two years, Kadenacy served as president and chief operating officer.
• • •
Balmoral invests in modular buildings
Santa Monica private equity firm Balmoral Funds joined up with two executives of Vesta Modular, a Birmingham, Mich.-based landlord of rentable modular buildings, to purchase the company from its initial investors.
Terms of the transaction were not disclosed.
The Balmoral investment is the first for the private equity firm's $220 million Fund III, said Jonathan Victor, Balmoral's senior managing director.
Billy Hall, Vesta's chief operating officer, said the buyout lays the groundwork for continued growth. He and Vesta Chief Executive Daniel McMurtrie teamed up with Balmoral to buy out their company.
Vesta's initial investors included Wells Fargo Central Pacific Holdings Inc. and Soaring Pine Capital, a fund created by Sam Simon's Family Office. Simon's private equity interests include various legal entities operating under the brand of Simon Holdings Group, a family office for the Simon family and other wealthy families in Michigan.
Hall and McMurtrie started the privately held modular building provider in 2014. Today, it generates roughly $40 million in annual sales, Hall said in an interview. Vesta now plans to grow through acquisition, consolidating various players within the modular industry.
Vesta owns a rental fleet of 3,000 modular buildings, and recently set up one of those buildings to serve as a school for students displaced by Hurricane Michael in Panama City, Fla.
• • •
Levine Leichtman sells franchise business
Beverly Hills private equity firm Levine Leichtman Capital Partners has completed the sale of GFG Holding Inc., also known as Global Franchise Group.
A spokesman for Levine Leichtman – which also owns Italian restaurant chain Bertucci's Inc. and cushion-maker Allied Aerofoam Products, among other interests – declined to identify the buyer or terms of the transaction.
Atlanta-based GFG is a strategic brand management company that owns and manages a portfolio of 1,500 franchised and company-owned brands in the food industry. These brands include Great American Cookie Co. Inc.; Round Table Pizza Inc.; Marble Slab Creamery Inc.; Pretzelmaker; MaggieMoo's Ice Cream & Treatery; and Hot Dog on a Stick.
North Point Advisors and Piper Jaffray & Co. served as financial advisers, and Kirkland & Ellis served as legal adviser to Global Franchise Group on the sale.
Have a deal tip? Pat Maio can be reached at pmaio@labusinessjournal.com or (323) 556-8329.
For reprint and licensing requests for this article, CLICK HERE.