Platinum Eagle Merges Texas Lodging and Hospitality Firms
Wednesday, November 14, 2018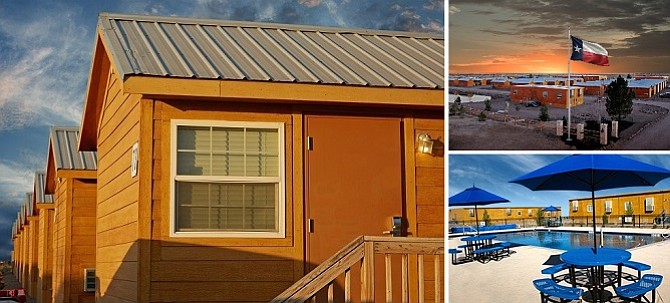 Century City-based Platinum Eagle Acquisition Corp., which was formed by veteran Hollywood executives Jeff Sagansky and Harry Sloan last year, announced plans Nov. 14 to combine with Texas-based Target Logistics Management and Austin-based RL Signor Holdings.
Target and RL Signor are the Nos. 1 and 2 largest providers of specialty rental housing accommodations with premium catering and hospitality services in the United States. Their biggest markets are the transient oil and gas field workers, as well as a family residential center for asylum-seeking families in Dilley, Texas.
"There are lots of places where there is very little infrastructure, yet thousands of workers in the Permian or Bakken basins. Permian is the size of the U.K., but there's no infrastructure," Sagansky observed. "There is drilling all over the basin, so when Chevron or Haliburton goes in there, how do we house them for four or six weeks? How do you feed them? These are on wheels, so they can be moved."
The transaction to combine the companies, which will have an enterprise value of about $1.4 billion after the merger, is expected to close early next year, Sagansky said.
Platinum Eagle CEO Sagansky and Sloan formed Platinum Eagle as a "blank check company" in 2017 with the intent to merge or acquire other businesses. They've created similar companies previously.
Platinum Eagle formally launched its acquisition business in January with a $325 million initial public offering, and later with an $80 million private investment in public equity, often referred to as a PIPE.
Sagansky will have a seat on the new company's board of directors.
Sagansky worked three decades in show business, including serving as president of CBS Entertainment between 1990 and 1994, and as CEO of Paxson Communications from 1998 to 2003.
Sloan served as chairman and CEO of MGM between 2005 and 2009. He also was founder, chairman and CEO of SBS Broadcasting, Europe's second-largest broadcaster.
Under terms of the business combination agreement, Signor Lodging and Target Logistics – also known as Target Lodging – will become wholly-owned subsidiaries of Platinum Eagle. After the closing of the proposed transactions, Platinum Eagle intends to change its name to Target Hospitality Corp., and remain Nasdaq-listed under a new ticker symbol, and move its headquarters to the Houston area.
Nearly two months ago, Target Lodging entered into an agreement to operate and manage Signor Lodging, a provider of specialty rental accommodations to oil and gas customers in Texas.
The strategic transaction expanded Target Lodging's footprint and broadened its offerings in the Permian, Bakken and Anadarko basins, both of which are oil and gas fields that extend from parts of Texas to North Dakota.

Target Lodging and Signor Lodging collectively own or operate 22 communities in the U.S. with roughly 13,000 total beds, supporting oil and gas, as well as government agencies and contractors.
Finance reporter Pat Maio can be reached at pmaio@labusinessjournal.com or (323) 556-8329.
For reprint and licensing requests for this article, CLICK HERE.