USC President Nikias to Step Down Amid Scandals
Friday, May 25, 2018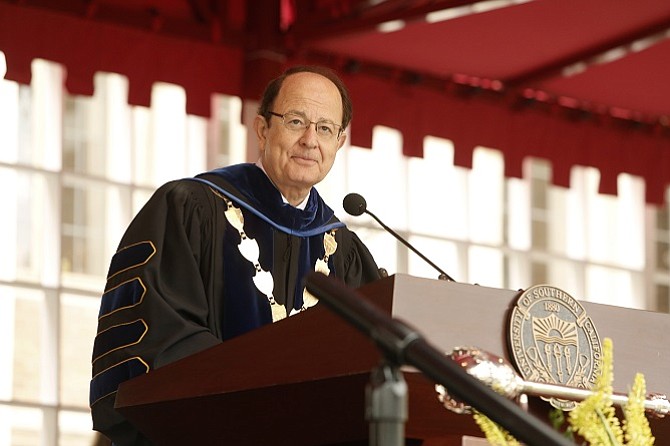 USC President C.L. Max Nikias has agreed to step down as a series of scandals has rocked the university, according to a statement from the university's board release late on May 25.
The announcement came a week after the latest scandal involving allegations of inappropriate sexual contact and behavior by the campus gynecologist led to calls from the faculty and others for his resignation.
"We have heard the message that something is broken and that urgent and profound actions are needed," Rick Caruso, billionaire shopping mall developer and chairman of the USC board's subcommittee of the executive committee, said in the statement.
"Today, President Nikias and the Executive Committee of the Board of Trustees have agreed to begin an orderly transition and commence the process of selecting a new president," Caruso continued in the statement. "We recognize the need for change and are committed to a stable transition... (O)ur pledge to this community is that we will rebuild our culture to reflect an environment in which safety and transparency are of paramount importance and to institute systemic change that will prevent this from occurring in the future."
The statement gave no timetable for Nikias to step down nor any details on the scope of a search for a new president.
Nikias, 65, took over as USC president in 2010, succeeding Steven Sample. He has led the university in the most prodigious fundraising campaign at any university in the U.S., helping raise more than $6.6 billion in just over seven years. He also spearheaded the development of University Village, a $700 million student housing and retail complex just north of the main campus.
But over the past couple years, the university has been hit with a series of scandals involving allegations of improper conduct involving administrators and doctors on campus.
Recently, the Los Angeles Times revealed that gynecologist George Tyndall, who had a clinic on campus for years, was quietly let go by the university last year after allegations of inappropriate contact and conduct towards female student patients at the clinic. Only after the Times' May 17 story were allegations referred to law enforcement authorities. On May 21, six women who had been examined by Tyndall filed lawsuits against him and the university alleging he engaged in inappropriate sexual contact and conduct during the examinations. Tyndall has denied any wrongdoing.
Last summer, the Times revealed that former medical school dean Carmen Puliafito allegedly engaged in repeated drug and alcohol abuse at parties with drug addicts and criminals and that he conducted eye exams at the university while under the influence of drugs. After the university provost confronted him, Puliafito resigned as dean but still remained on the faculty and continued to conduct eye exams on campus for more than a year until the Times story published. Then, within days, USC fired him.
Puliafito's successor, Dr. Rohit Varma, stepped down last fall after allegations surfaced that he sexually harassed a campus researcher years earlier.
After the Tyndall allegations became public last week, increasing numbers of faculty said these two cases illustrated a pattern in which the university – under Nikias' leadership – delayed notifying medical oversight boards and law enforcement authorities about the allegations, placing other students and patients at risk.
Economy, education, energy and transportation reporter Howard Fine can be reached at hfine@labusinessjournal.com. Follow him on Twitter @howardafine.
For reprint and licensing requests for this article, CLICK HERE.