TOP DOG
Dodger delicacy laps competition 56 years after introduction
Friday, May 11, 2018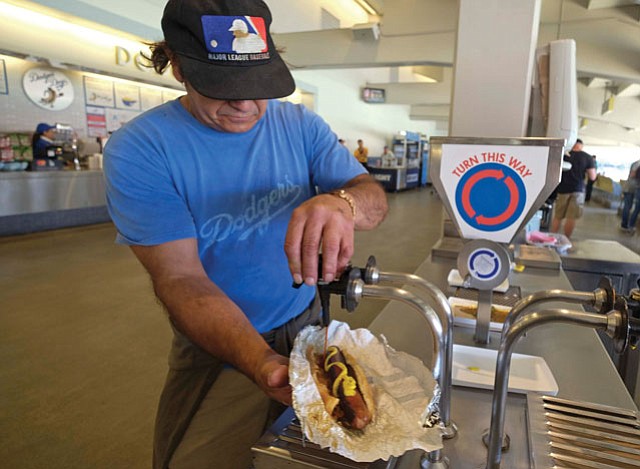 The National Hot Dog and Sausage Council (NHDSC) estimates baseball fans will eat more than 19 million hot dogs during the 2018 Major League Baseball season.
And, if last year's statistics hold true this baseball season, more than 2.7 million of those dogs will be Dodger Dogs, purchased at Dodger Stadium in Chavez Ravine, according to Los Angeles Dodgers Executive Vice President and Chief Marketing Officer Lon Rosen.
The stats make the 10-inch, 240-calorie frank (410 with bun), which goes for $6.50, the nation's top dog in stadium sales, according to the NHDSC industry organization – not to mention a line of business that does more than $17 million at concession stands alone.
Dodger Dogs also are available served hot at some AM-PM Convenience Stores Inc. locations, and there is a packaged version to cook at home, available at a lineup of grocery outlets that has included Ralphs Grocery Co. Inc. and Smart&Final Stores Inc.
Dodger Dogs are produced in Vernon by Farmer John, which was acquired by Smithfield, Va.-based Smithfield Foods Inc. in 2016. Dodger fans have been lining up to procure this popular paragon of processed pork since the stadium opened in 1962.
Smithfield spokeswoman Elizabeth Roberts said bacon remains Farmer John's most popular product year round. Dodger Dogs account for just 4 percent of the brand's overall sales, although they lead the pack at the ballpark.
"The Dodger Dog is a staple, a timeless classic, and part of the traditional ballpark experience that our fans love," Rosen said in an e-mail. "Over the years, the menu at Dodger Stadium has expanded to include gourmet dishes that suit many palates and tastes, but the number one selling food item remains the Dodger Dog."
Guest menu
The 2.7 million dog pack of stadium sales also includes the stadium's Dodger Dog offshoots – a six-inch, all-beef, natural-case Brooklyn Dodger Dog, and the Super Dog, a 10-inch frank that weighs in at around 5 ounces compared to the approximately 3-ounce classic Dodger Dog. The jumbo Super Dog is typically served wrapped in bacon.
Sometimes the Dodger Dog gets all dressed up for visitors, with themes including a Philly Cheese Steak dog or a Florida Dodger Dog, when the Philadelphia Phillies or the Miami Marlins are in town.
The NHDSC estimates Dodger Stadium hot dog sales could top 3 million in 2018. The dog-watching organization said that's enough frankfurters to round the bases at Dodger Stadium 5,952 times.
And, whether using the NHDSC's projected number or Dodger Stadium's 2017 figures, Dodger Dogs are frankly the winner. Next on the list are Coors Field, home of the Colorado Rockies, and Globe Life Park, home of the Texas Rangers, in Arlington, Texas, both expected to sell about 1.2 million dogs at their respective concession stands this season.
The home team might be tempting fate next week, with a Dollar Dodger Dog promotion set for a May 21 game against the Rockies.
There's no question that home and visiting Dodger Dog diners alike are relishing their favorite franks with plenty of condiments: Ryan Evans, executive chef for Dodger Stadium, said the stadium goes through 23,580 gallons of ketchup, approximately 19,000 gallons of mustard, and 8,786 gallons of pickle relish, dispensed on condiment carts that serve about 60 concession stands that offer hot dogs and other items throughout the stadium.
Dodger Stadium concessions as a whole are overseen by Chicago-based Levy Restaurants, Inc. which also provides restaurant services to the Staples Center, Microsoft Theater and Los Angeles Convention Center downtown, among other local venues.
The Dodger Dog has remained the favorite even as the stadium restaurant scene has changed radically in the past five years.
"I think the fans are wanting more," he said. "They are educating themselves about good food, eating better, wanting more than just beer and a hot dog, or peanuts and popcorn. They want to come and have restaurant quality, local-influenced food."
Sometimes the influence seems less local and more the menu from another planet. Evans offered details on one of last season's wackiest offerings: The Spicy Chicken Jelly Doughnut Ice Cream Sandwich. Just like it sounds, with grape jelly as the featured doughnut filling.
"I wanted not to like it, but it was really good," Evans said.
For reprint and licensing requests for this article, CLICK HERE.