Galaxy Signs Kinecta; LAFC Starts Fast
Local credit union gets naming rights, advertising space and partnership deal
Friday, March 30, 2018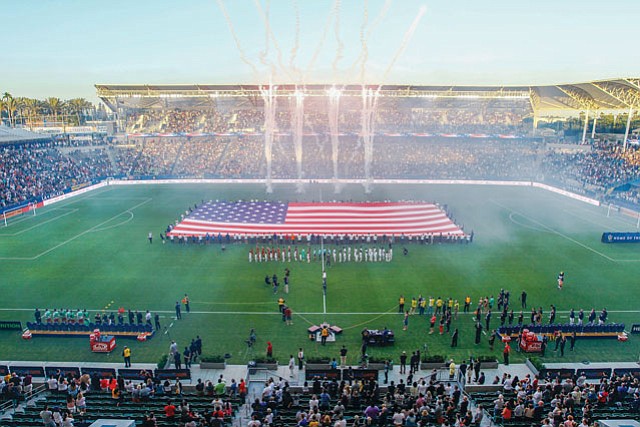 Manhattan Beach-based Kinecta Federal Credit Union paid an undisclosed sum to the Los Angeles Galaxy for a multi-year marketing partnership, the team announced last week.
The deal was negotiated by AEG Global Partnerships and gives Kinecta the first-ever naming rights to the Galaxy's Torrance indoor soccer and recreational facility. The credit union also will be the exclusive financial services partner of the Galaxy, and will receive signage and branding rights around StubHub Center.
Kinecta hopes the marketing partnership will increase its local membership 5 percent to 10 percent, according to Shannon Doiron, first vice president of marketing at Kinecta. Doiron said the credit union did not have a timeline over which it hoped the growth would occur.
The Galaxy already has sponsorship deals with brands such as Papa John's International Inc., Pringles, Toyota Motor Corp. and Denny's Inc.
The Galaxy also chose Kinecta due to it's Los Angeles ties, according to Robert Vartan, senior director, AEG Global Partnership.
"The regional companies and industries have networks here," Vartan said. "As much as we love global relations services, it is valuable to have Kinecta, who has three-hundred thousand members – we knew there was a seed planted and we can let Kinecta take the grassroots approach."
The deal calls for employees of AEG Global Partnerships parent Anschutz Entertainment Group the chance to join the credit union if they so choose. AEG is giving Kinecta access to its employees, including providing physical space for the credit union to pitch its services. Kinecta hopes the access to AEG employees will attract new business to the financial institution.
Kinecta will have two branded ATM machines in the stadium.
The credit union also will offer tickets to new members who open an account at Kinecta and have co-branded debit cards and checks with the Galaxy logo.
LAFC Stays on Attack
The Los Angeles Football Club continues to add sponsors and raise its profile in Los Angeles as it gears up for its April 29 inaugural home opener against the Seattle Sounders.
LAFC announced since the beginning of 2018 sponsorship deals with Toyota Motor Corp., Banc of California, YouTube TV, Delta Air Lines Inc., and Heineken.
The YouTube TV sponsorship is particularly innovative, according to the club's spokesman. The multi-year pact was the first for any United States professional soccer franchise, and allows all LAFC locally televised games to be shown on YouTube's live streaming TV platform.
Prev Next
For reprint and licensing requests for this article, CLICK HERE.