In Search of CEOs
Managing partner of Deloitte's L.A. office on role as chair of chamber
Friday, March 2, 2018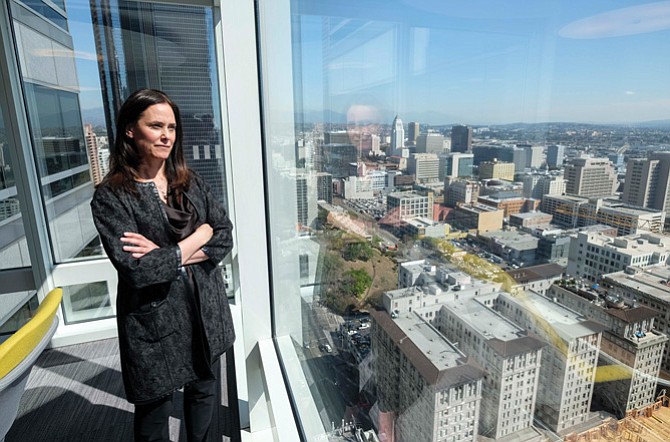 Michelle Kerrick, managing partner for Deloitte's Los Angeles office, took over as 2018 board chair of the Los Angeles Area Chamber of Commerce in January. Kerrick, 55, is the fifth woman to lead the board in the chamber's 130-year history. This year marks a critical transition period for the chamber, with longtime Chief Executive Gary Toebben set to step down in June. The Business Journal's Howard Fine recently caught up with Kerrick, and edited excerpts of their conversation follow.
Question: What's your primary goal as the chamber's 2018 board chair?
Answer: My first objective will be to manage the transition to a new leader for the chamber. (Executive search firm) Korn Ferry has been hired and we are working closely with them in the search. We are also reaching out to various people within the chamber and the business community to get their input about the attributes they would like to see in the next leader.
What qualities are you looking for in a new chief executive? Do you believe it's necessary for that person to have experience running another chamber?
I'm not sure anybody would have thought 12 years ago that picking Gary Toebben from a chamber in Kentucky would have resulted in him succeeding as well as he has. So the candidate now to replace him must have those administrative qualities and also make the organization more nimble. I believe some knowledge of Los Angeles is helpful. Unlike some other markets, there aren't just a handful of corporations driving the business community; we have a huge middle market economy. Also, there's a diverse political landscape here.
Some have claimed that the chamber has lacked clout at Los Angeles City Hall, pointing to minimum wage hikes and other policies passed over the chamber's objections. Do you think the chamber needs more clout?
We have wonderful relationships today with (Los Angeles) Mayor (Eric Garcetti), the (Los Angeles) City Council and (the Los Angeles County Board of) Supervisors. But we can always use a stronger voice. I would like to see more CEOs come together as a single voice more often. In the Bay Area, there is a council of business executives that does a nice job of driving strategic issues. That council gets a lot of credit for the policies underlying the Bay Area's tremendous job growth. We've had some ability to do that, but it has been limited.
So how would this CEO council work?
Prev Next
For reprint and licensing requests for this article, CLICK HERE.