State Approves Revised Settlement Over Shutdown Costs for Nuclear Plant
Thursday, July 26, 2018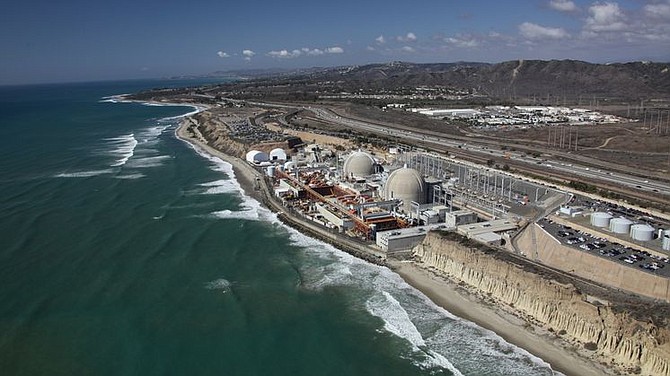 State regulators on July 26 approved a revised settlement over shutdown costs for the former San Onofre nuclear power plant that pushes more of the $5.5 billion tab onto shareholders of majority parent Edison International.
The California Public Utilities Commission vote ends a six-year saga over who should pay for the billions in shutdown costs for the San Onofre Nuclear Generating Station, which shut down in Jan. 2012 after a leak in tubing in one of the newly constructed steam generators at one of the reactors. In 2013, Edison and the other utility owners of the plant decided to close it permanently, a long and complicated process that involved removal of radioactive fuel rods and other materials.
Edison subsequently recovered $125 million from Tokyo-based Mitsubishi Heavy Industries, the manufacturer of the steam generators.
Southern California Edison, the utility subsidiary of Rosemead-based Edison International, owned 78 percent of the plant and therefore has borne the brunt of the shutdown costs. Another 20 percent was owned by San Diego Gas & Electric, the utility subsidiary of San Diego-based Sempra Energy; the remaining 2 percent was owned by the city of Riverside's utilities department.
In 2014, the PUC approved a settlement that pushed 56 percent of the $5.5 billion in shutdown costs onto ratepayers of the three utilities in the form of rate increases and 27 percent of the costs onto shareholders; the remaining 17 percent was to be recovered from a nationwide nuclear decommissioning trust fund and U.S. Department of Energy credits.
But it was later revealed that the main points of the 2014 settlement were negotiated in a secret Dec. 2013 meeting in a Warsaw, Poland hotel room between then-PUC President Michael Peevey and then-SCE Executive Vice President Stephen Pickett. Both parties failed to disclose this meeting; the PUC fined Edison $16.7 million for its failure to report the meeting and Peevey was forced to resign from the commission.
The resulting uproar led to calls for the settlement to be reopened and renegotiated; the PUC officially reopened the settlement in May 2016. Ratepayer advocates and utility executives reached a new deal earlier this year that called for the ratepayer share of shutdown costs to be reduced to 40 percent from 56 percent and the shareholder portion to be upped to 43 percent from 27 percent. This resulted in a reduction of roughly $750 million in the ratepayer tab and a corresponding $750 million increase in shareholder costs.
This was the deal that the Public Utilities Commission ratified on July 26.
Meanwhile, also on July 26, Edison International reported its second quarter earnings. The company reported net income of $276 million, or $0.85 per share, on revenue of $2.82 billion, compared to net income of $278 million, or $0.85 per share, on revenue of $2.97 billion in the second quarter of 2017. According to the Seeking Alpha website, Edison beat earnings per share estimates by 2 cents but fell short on revenue estimates by $180 million.
Edison shares rose 1.8 percent July 26 to $68.04.
Economy, education, energy and transportation reporter Howard Fine can be reached at hfine@labusinessjournal.com. Follow him on Twitter @howardafine.
For reprint and licensing requests for this article, CLICK HERE.